What I Found When I Lost My Phone: Sleep, Serenity, and a New Understanding of Connectedness
Inner peace in a hopeless place.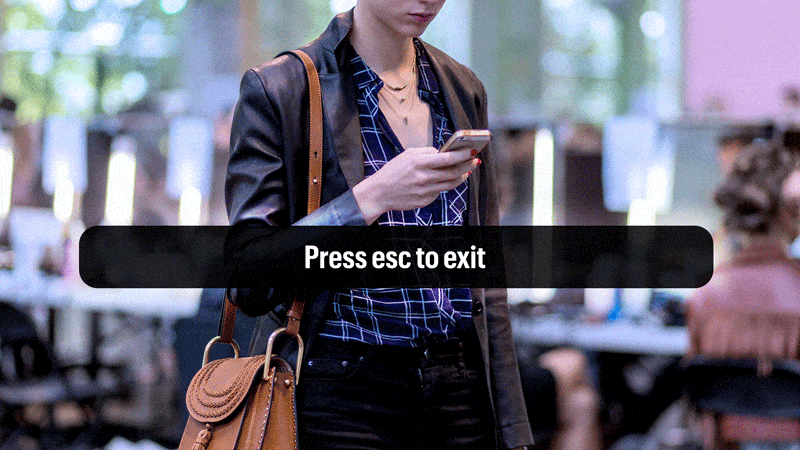 (Image credit: Getty, design by Mia Feitel)
Marie Claire Newsletter
Celebrity news, beauty, fashion advice, and fascinating features, delivered straight to your inbox!
Thank you for signing up to Marie Claire. You will receive a verification email shortly.
There was a problem. Please refresh the page and try again.
Las Vegas is probably not the first place you'd think of for a wellness escape. But that's exactly where I set out for the Mandarin Oriental spa's digital wellness weekend. Yes, amidst the scads of bachelorette revelers and bedazzled Britney Spears concert-goers, I was about to learn how to chop off an appendage (AKA my phone) at this urban oasis that sits quietly tucked behind the tequila-laced madness of the Strip.
Our digital connections can seem vital, but here's the problem: constantly scrolling through highly curated images and snaps of other people's lives is really screwing with our collective mental health. I'm a positive person by nature, but even I feel what experts term the "compare and despair" phenomenon pretty regularly now, and I want it to stop.
What's preventing me? Work is my big connectivity excuse. I'm a freelancer who is continuously working on any number of projects, and back-and-forth late into the wee hours has become commonplace. I've also convinced myself that staying in the social-media loop of what industry peeps are up to is essential to my career survival. But do I really need to see what someone ate last night or what her cat did this morning?
Back at the Mandarin Oriental, Jennifer Lynn, the gentle-spoken senior director of spa, offers to confiscate our phones for the entire weekend for a cold-turkey approach (gulp), or (thank god) you can opt for the G-rated version where you keep it in your room and only access it at night—if you want. I opt for the latter. Rome wasn't built in a day, people.
We're soon busy with morning yoga, nutrition talks on eating for energy, and green smoothie demos intended to show how we don't need a $500 blender to get healthy. (Crap, why didn't you tell me last year?) We're served delicious lunches and converse with humans we don't know through a process called making friends (never heard of it), instead of scrolling through our feeds and Instagramming our food choices. Activities like adult coloring books and writing old-school letters relax the mind and keep our hands occupied in the absence of touchscreen tapping.
Afternoons are open, so I beeline to the sparkling, palm-lined pool and order a pineapple and ginger mojito (it's a digi detox, not an alcohol detox, my friends), and my sister joins me to lie out under the arid Nevada sun. I realize that spending time with a loved one is an easy way to forget about the phone, if you can let go of the idea that you have to show people what you're doing together. The '90s fashion resurgence happening around us brings back memories; reminiscing is way more fun than picking between Clarendon and Valencia.
I check out the Mandarin Oriental's decadent Journey Into Stillness treatment, which the Las Vegas spa designed especially for digital wellness. The two-hour experience begins with a grounding foot ritual to calm the mind and induce a deep state of relaxation. (Yeah, I'd say it works.) An acupressure face and scalp massage reintroduces the importance of human touch and connection. Then a full-body massage addresses postural issues caused by phones—we're all hunching!—as healing tourmaline crystals and sound therapy align energies that are knocked off balance when we remain wired.
At night, we take in the spectacle of the Strip. Elvis croons as Marilyn's skirt flutters over her head. A "nun" gets arrested while wearing nothing but a habit and thong. Two totally adorable seniors wrapped in feather boas renew their vows while onlookers coo. We're present to it all, unencumbered with figuring out which backdrop is best staged for a shot, or how much to lighten night photos without losing too much resolution.
And here's the thing: I get back to my room and don't even want to touch my phone and break the magical spell. It's only been 24 hours, but I feel like I've already been away for a week. I don't care what anyone else is doing and what I'm not doing. It's like my brain is regenerating cells. And maybe my spirits are too?
The next day, I see Jennifer Thompson, the spa's visiting nutritionist and iridologist. Iridologists believe the patterns and colors of the irises of your eyes reveal much about your physical and systemic health. At the end of a very thorough personal-health chat, Thompson says she sees I have chronic trouble sleeping. And that a phone charging next to my bed is bad news for my energy, feng shui, juju—whatever you want to call it. But, but, but….it's for work…
On the first night home and fresh from my weekend of new beginnings, I institute no phone from 9 p.m. to 9 a.m.—a simple step in the direction I want to move. I plug it into my kitchen outlet and head to my bedroom. I feel unnerved. And then I feel unnerved that I feel unnerved. Why does putting this thing to the side for 12 hours feel like such a ridiculous big deal? This is a problem with a scope I really didn't understand until this moment.
All week long, I repeat the ritual of leaving the phone charging in my kitchen. Instead of scrolling through social feeds and email for 40 minutes in bed to "catch up," I finally crack the cover of a book that had been hanging out for a YEAR on my nightstand. I travel to ancient Egypt every night, learning how Cleopatra's badassery extended far beyond winged eyeliner and seduction to ingenious leadership and big-picture strategy. I feel inspired.
For the first time in years, I sleep seven to eight hours every night, all week. Not just any sleep, either—but like Nina Simone sings in one of my all-time favorites, "Sleep in peace when the day is done, that's what I mean…it's a new dawn, it's a new day…and I'm feelin' good…"
Follow Marie Claire on Facebook for the latest celeb news, beauty tips, fascinating reads, livestream video, and more.
Celebrity news, beauty, fashion advice, and fascinating features, delivered straight to your inbox!
Grace is a beauty and wellness journalist based in the New York City area with more than 18 years of freelance reporting experience. She has contributed to Good Morning America, TODAY, and ABC, CBS, and NBC stations cross country; magazines including Marie Claire, People, and BRIDES; and digital sites Vogue, Elle, Allure, Women's Health and SELF. She is a summa cum laude graduate of New York University Arthur L. Carter Journalism Institute. Grace's mission is to help you feel and look your best. When she's not urging others to use eye cream, Grace can be found on long daily walks, Barre3'ing, beach biking at the Jersey shore, and engaged in community activism.