Get Ready with Me: How 3 Media Power Players Prep for Their Day
Out the door and down to business.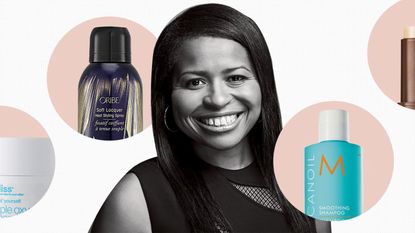 (Image credit: Design by Mia Feitel)
Marie Claire Newsletter
Celebrity news, beauty, fashion advice, and fascinating features, delivered straight to your inbox!
Thank you for signing up to Marie Claire. You will receive a verification email shortly.
There was a problem. Please refresh the page and try again.
These media power players have their a.m. strategies on lock. The breakfast, the shower situation, the beauty regimen—it's all perfectly calculated to get them out the door and down to business.
The Branding Guru: Lisa Holladay
Vice president and global brand leader for The Ritz-Carlton and St. Regis Hotels and Resorts, logs over 200,000 air miles a year, visiting more than 130 properties around the world.
How she gets ready:
5:15 A.M. When the alarm goes off, I grab my phone to check e-mails for five minutes. I throw on my workout clothes, then give my fiancé a kiss and my dog a squeeze. I apply my Revision Skincare sunscreen and head out to exercise.
5:30 A.M. I'm in the car and on the way [from McLean, Virginia] to Sergeant's Fitness Concepts in D.C.—a one-hour boot camp that starts at 5:50 sharp. It combines aerobics and strength training using bands and weights. It's intense, and I love it...total stress reliever.
6:50 A.M. Post-workout, I drive straight to Starbucks and place my regular order: a grande skim latte with one pump of hazelnut, and a venti iced unsweetened green-tea lemonade.
7:10 A.M. There's a locker room at work, so that's where I get ready most mornings—I pick out my clothes, shoes, and accessories the night before and bring them with me. In the shower, I use my favorite travel-size amenities from our hotels: Kiehl's, Bliss, and Bulgari. I'm also loyal to Oribe's shampoo, conditioner, and Gold Lust hair oil. I have very wavy, thick hair, so keratin treatments twice a year are a huge time-saver for me. They also prevent my hair from expanding when I'm in really humid places.
7:30 A.M. I wash my face with Erborian cleansing oil and always travel with a little tub of it. Dry skin is an issue because of all the flying I do overseeing brand strategy. I swear by marula oil and Dr.Jart+ Ceramadin Cream to moisturize my face, and from the neck down, I use Bliss' super- rich body butter.
7:35 A.M. After moisturizing, I put on Peter Thomas Roth CC cream. This is my foundation, antioxidant cream, and sunscreen. I use mascara and Urban Decay's Naked palette for my eye look, then add a swirl of blush on my cheeks. To finish, I always use Nars matte lip pencil: beige-rose Bettina for day and Damned, a magenta red, at night.
1. ROCKY MOUNTAIN OILS Jasmine Essential Oil, $80. 2. PETER THOMAS ROTH CC Cream Broad Spectrum SPF 30 Complexion Corrector, $48. 3. BLISS Naked Body Butter, $29. 4. ERBORIAN Solid Cleansing Oil, $39. 5. MARULA Pure Marula Facial Oil, $78. 6. ORIBE Shampoo for Beautiful Color, $44. 7. NARS Velvet Matte Lip Pencil in Damned, $27. 8. REVISION SKINCARE Multi-Protection Broad-Spectrum SPF 50, $56.
The TV Showrunner: Courtney Kemp
As a writer and executive producer, Kemp puts the run in showrunner, moving between the writers' room, editing bay, and set of Starz's gritty drama Power.
How she gets ready:
6:30 A.M. My 5-year-old daughter gets me up at 6:30, but I'm usually already awake and checking e-mails by 6 a.m. if I'm in L.A., since we shoot Power on the East Coast.
7 A.M. I make a shot of espresso and hang out with my daughter until the nanny arrives—that's my opportunity to dash into the shower. I wash my hair a couple times a week with Moroccanoil shampoo and conditioner. Since I get regular keratin treatments, it's easy to style myself.
7:15 A.M. I moisturize my face with Bliss cream and then put on Bobbi Brown SPF for protection. If I've washed my hair, I'll style it while my moisturizer sinks in. I blowdry it straight; then I spritz sections with Oribe heat-styling spray before using a curling iron or a flatiron. This makes it super shiny and practically holds the style until my next shampoo.
7:45 A.M. Next, I blend in three shades of Tom Ford foundation stick to even out my skin tone and contour my face. Then I dust on a little blush and bronzer to highlight my cheeks. On my lids, I'll swipe on Bobbi Brown shadow sticks in Truffle and Golden Bronze, then add two coats of Benefit They're Real! mascara, followed by two more layers of Dior—I have no lashes, and this combo builds them up! To define my brows, I use Hourglass brow pencil. My go-to lipcolor is Nars lipstick in Falbala, a shimmery rose. Last, I apply Urban Decay setting spray. This saves me when I don't have time to redo my makeup!
7:55 A.M. The finishing touch is perfume. I'm such a ballsy woman at work, but I'm actually a super-girly girl. I love white floral fragrances and wear Jo Malone Orange Blossom Cologne with the matching hand-and-body lotion.
[image id='124b6855-e418-4b84-9729-98844acad190' mediaId='cc515ca2-5106-46f8-8e3b-c8f7e1fd2879' caption='' loc='C' share='false' expand='true' size='M'][/image]
1. MOROCCANOIL Moisture Repair Conditioner, $23. 2. NEUTROGENA Deep Clean Oil-Free Makeup Remover Cleansing Wipes, $7. 3. URBAN DECAY All Nighter Makeup Setting Spray, $31. 4. NARS Lipstick in Falbala, $28. 5. BLISS Triple Oxygen + C Energizing Cream, $55. 6. ORIBE Soft Lacquer Heat Styling Spray, $36. 7. TOM FORD Traceless Foundation Stick, $82. 8. MOROCCANOIL Smoothing Shampoo $28. 9. JO MALONE LONDON Orange Blossom Cologne, $130. 10. DIOR Diorshow Iconic Overcurl Mascara, $30. 11. BOBBI BROWN SPF 50 Protective Face Base, $42. 12. HOURGLASS Arch Brow Sculpting Pencil, $34. 13. BOBBI BROWN Long-Wear Cream Shadow Stick in Golden Bronze, $30.
The Biz Journalist: Rebecca Jarvis
ABC News' chief business, technology, and economics correspondent reports on the finance industry she once worked in, appearing on many of the network's programs as well as the digital series Real Biz with Rebecca Jarvis.
How she gets ready:
4:45 A.M. When I'm scheduled to be on Good Morning America, my alarm goes off and I scroll through e-mails on my iPhone, make a pot of dark French-roast coffee, and read through news websites to get a clear picture of what's happened overnight.
5:15 A.M. I take a quick 10-minute shower, which 1 includes washing my hair. I use shampoo every day, without fail, because my strands are so insanely fine and straight.
5:30 A.M. I keep a jar of organic coconut oil next to the shower and use it as my body moisturizer. It's not greasy at all if you use it sparingly, and I love the smell. I apply Dr. Brandt primer on my face and then Shiseido SPF 40 on top.
5:45 A.M. I blowdry my hair upside down to lift the roots. For more body, I also tease the crown a little bit and spray it into place with L'Oréal Paris hairspray.
6 A.M. I spritz on La Prairie body spray every day. I also mist it on my clothes. It smells clean and citrusy—so good!
6:01 A.M. On GMA days, I get my hair and makeup done at the studio, but if I'm working on a story or heading to a shoot for Real Biz, I do it myself. Either way, I wear Sephora foundation, with Nars concealer under my eyes. I apply mascara, and Urban Decay eyeliner pencil in black along my top lashes, and in navy on the bottom—this lifts my eyes and makes me look more awake. I fill in my lips with Urban Decay pencil in Rush, a nude-pink shade, which I top with Glossier Balm Dotcom.
1. URBAN DECAY 24/7 Glide-On Eye Pencil in Sabbath, $20. 2. SHISEIDO Urban Environment UV Protection Cream SPF 40, $33. 3. URBAN DECAY 24/7 Glide-On Lip Pencil in Rush, $20. 4. SEPHORA COLLECTION Blotting Papers, $8. 5. GLOSSIER Balm Dotcom, $12. 6. L'ORÉAL PARIS Elnett Satin Hairspray, $15. 7. NARS Radiant Creamy Concealer, $29. 8. L'ORÉAL PARIS Elnett Satin Hairspray, $15. 9. DR. BRANDT SKINCARE Pores No More Pore Refiner Primer, $45.
This article appears in the April issue of Marie Claire, on newsstands now.
Celebrity news, beauty, fashion advice, and fascinating features, delivered straight to your inbox!