For Orthodox Women, Wigs Aren't Just Hair—They're Big Business
Inside their global empire.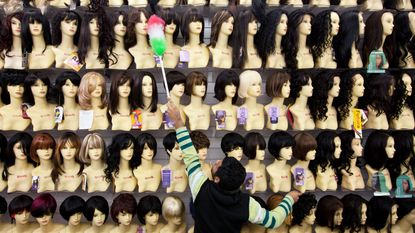 (Image credit: Archives)
In a run-down, three-room apartment on an average-looking street in Donetsk, Ukraine, a group of women peer up from their sewing machines to stare at the American who has just entered. They exchange whispers and watch as the blonde woman greets their boss in Russian. Zelda Volkov, fresh off a 10-hour flight from New York City, is here to buy hair. Two men carrying handguns watch carefully as she evaluates the color, length, and texture of the wigs laid out before her. It's their job to make sure the customer has brought the money she promised; there is no room for negotiation. With a nod from the boss—a man they call Igor—Volkov hands over the payment and slips a bag of wigs into her suitcase before the armed men escort her out.
Nearly 5,000 miles away, in a sunlit salon in Brooklyn, Leah M., a young bride-to-be, scrutinizes her reflection in the mirror. Her shampoo- commercial-shiny hair resembles Sofía Vergara's—and it comes with a Hollywood price tag ($3,500) to match. Leah is ultra-Orthodox Jewish, and she's shopping for the most important purchase she will make before tying the knot: her first wig. Finding the right one is like trying to find her soul mate all over again. Deeply rooted and carefully stitched into each strand is her sense of identity, because, like so many other women in her community, Leah won't show her natural hair to anyone other than her husband and female family members after she's married. She will tuck her strands into hats, conceal them under colorful scarves, or pin them up under a wig each time she leaves the privacy of her home, just as generations of Jewish women have done before her.
Orthodox women do not hide their hair to diminish their beauty, but to preserve the intimacy of their marriages. "The holier something is, the more privacy it demands," is how Chana'le Gourarie, the daughter of a prominent Orthodox rabbi in Miami, explains the tradition. "There is no aphrodisiac quite as strong as a little mystery." The thinking is: She is visible, but she is unavailable. Her beauty is her own, and she will decide whom she reveals it to. "The hair covering creates a psychological barrier, an invisible distance between a woman and a stranger," says Rabbi Yossi Denburg, of Chabad Jewish Center in Coral Springs, Florida.
Although women of many different religions and cultures cover their hair, the way they do it is often left up to tradition and the community's leaders. Many Muslim women, for example, wear a hijab, while some married Hindu and Sikh women wear veils, and many Christian women wear hats in church. But for Orthodox women, wigs are the standard, and in New York City, where there are approximately half a million Orthodox Jews, faux hair is big business.
Danielle Chayo, a stylist in Crown Heights, Brooklyn, a neighborhood that's home to a large Orthodox community, says the wigs women wear now are of better quality—not to mention more stylish—than they were when she graduated from beauty school in Paris more than 30 years ago. Her daughter, Chaya M. Goldstein, also a stylist, and founder of the CMC Hair Studio in Crown Heights, credits these improvements, in part, to wig-wearing celebrities like Kim Kardashian, Rihanna, and Beyoncé, whose long blonde locks are reportedly custom weaves made with European hair. "Now that hair extensions are so common in popular culture, there are more options available, and it's easier for religious women to find natural-looking wigs," says Goldstein.
The most realistic-looking pieces start with high-quality, virgin (undyed or not chemically processed) hair. Volkov, owner of Zelda Hair, a New York–based retailer catering to the Orthodox community, says India, China, and Ukraine are the largest exporters of human hair, but the quality can differ markedly. In the Orthodox community, many women believe the best virgin strands come from Russia and Ukraine. "It comes in more colors and textures than hair from Asia, which tends to be dark and straight," Volkov explains. Human hair dealers abroad know Asian hair doesn't fetch as much as strands from other countries, so they often buy in bulk and then try to pass it off as Brazilian or Peruvian. That's one reason Volkov travels directly to the source to buy, a rarity in this business.
In Volgograd, Russia, Ruslan Stanichny has been exporting hair to Israel, Australia, and Europe for more than 14 years. Street signs advertising his business draw attention from girls and women hoping to sell their long locks for profit. He says the hair must be at least 35 centimeters (about 14 inches) long and that he pays between $50 and $100 for each seller's hair, depending on the texture, weight, and color (blonde and red fetch more than brunette or gray). Finding enough supply to meet demand is difficult, but "my business is rare and competitors are few," he explains. Every month, Stanichny ships nearly 220 pounds of bulk hair, or enough to make about 300 wigs of varying lengths, to buyers in the Orthodox community as well as costume designers, wax-museum sculptors, doll companies, and others.
In Qingdao, a city in China, there are multiple wig factories where hundreds of workers process, trim, sort, and sew strands imported from around the world. Business owners are discreet about their sources and unwilling to share details about the hair's origins, but Nicole Wang, a salesperson at Yelin Wigs, one of the city's busiest factories with more than 100 workers, says she buys hair from "professional suppliers in Mongolia, Russia, and Ukraine." Phoebe Lee of Yefine wigs, a neighboring factory, says most of her hair comes from China and Europe, and is willing to say only this of the collection process: "We are very selective, and the hair can't be damaged by products or brittle or dry due to age."
This secretive and competitive business is also an extremely pricey one. Bulk hair sells for between $2,000 and $4,000 per kilo (a little over two pounds), Volkov inspects a finished wig but prices fluctuate constantly. When you factor in the cost of processing, sewing, and designing a hairpiece, Orthodox women may spend $1,500 for a basic style or up to $5,000 for a luxury, bespoke wig. Add on the cost of monthly maintenance—washing, styling, maybe some seasonal highlights—and it's no wonder that women want to ensure they're getting what they pay for.
One way they do that is by checking ShayTell (shaytell.com), basically the Yelp of the faux-hair world. The name is a play on sheitel (SHAY-tel), a common word for wig in Yiddish, a language spoken by many Orthodox women. The site features reviews for about 70 wig brands, and founder Myriam Schottenstein says her mission is to provide women with transparency in an industry where the truth is often kept hidden.
"There's H&M and then there's Bergdorf. It's the same with wigs," explains Leah Loksen, a hairstylist who specializes in styling and cutting wigs for Orthodox women in Crown Heights. She recommends that her clients bring in their wigs to be washed and professionally styled every few weeks. While a quality wig can last up to five years or longer with proper care, most of her clients keep several in rotation. "Wigs are like bras," she says. "You want to change them up every few years."
RELATED STORIES
You may even want to accessorize. Vera Goldner, an Orthodox woman from Los Angeles, partnered with Milano Wigs to distribute a collection of hats with attachable hair, called AdornA by Milano. "I got the idea when I was at a hockey game and feeling jealous of the women around me wearing baseball caps and ponytails," she says. "I felt silly pulling on a cap over a full wig; it was hindering me from being trendy and comfortable." She sells custom or premade extensions attached to fedoras, metallic beanies, and baseball caps to a diverse customer base that includes Orthodox women as well as Real Housewives stars like Lisa Vanderpump and Kyle Richards.
Back in New York City, Volkov waits for her precious cargo at the airport baggage claim and thanks a woman who has complimented her on her beautiful blonde hair, which is, of course, a wig. She smiles to herself and thinks about all the under-cover women like her across the globe. It's as Chayo says: "Wigs are so well-made today, it's nearly impossible to tell who's wearing one." And Volkov should know: Her clients are among the most selective in the world, and as some of them like to say, "The better the wig, the closer you are to God."
This article appears in the May issue of Marie Claire, on newsstands now.
Marie Claire email subscribers get intel on fashion and beauty trends, hot-off-the-press celebrity news, and more. Sign up here.