Tinashe Opens Up About Embracing Her Hair: "It's Been a Learning Process"
This singer's look is as much a form of self-expression as her music.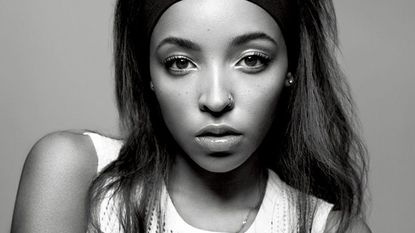 (Image credit: Astrid Sterner)
Personal style is a huge part of being a creative person, artist, and entertainer. I'm always switching things up and embodying new personas for music videos, songs, and performances. Some days, I'll have a bit of '90s grunge or dominatrix going on; others, I'll be relaxed, laid-back, and natural. I get inspired by traveling and seeing the locals' looks in the new places and cultures I visit. And I travel a lot: Just recently, I went to Malaysia, Taiwan, and South Africa. I've also found inspiration in Dubai, London, and Paris.
My hair is also a big part of my self-expression. It represents who I am and where I come from. I have a naturally tight curl pattern that allows me to have a wide range of hairstyles. When I get out of the shower, I can enhance the curls, make the hair loose and wavy, or style it sleek and straight. It's a way to channel my moods day-to-day.
But figuring out how to work with my hair has been a learning process. When I was younger, I didn't have a role model, because no one in my family had my hair type. I didn't know how to style it. Now, girls have the Internet and YouTube. You can research your hair type and find people who are similar and learn from them. It's something I never had.
Eventually, I taught myself by observing other people. I've gone through a lot with it, and gotten more comfortable experimenting as I've gotten older. I've tried all sorts of colors and textures—blonde, red, black, brown, straight, wavy, and curly—and I still make major changes probably twice a year. I'll just get this feeling that I need to try something new. Deep down, I would like to cut it really short, but I haven't had the confidence yet—maybe someday.
The only downside to experimenting is that I do a lot of heat styling, and that's definitely not the best for your hair. Plus, mine is on the drier side anyway. To counteract that, I try not to shampoo every day. I'll add in a lot of oils to moisturize it, and I'll use John Frieda's Frizz Ease line to get my strands smooth so I don't have to run a hot iron over them a million times.
Right now, it's super trendy to rock your natural texture or color. So what I would say to people is to own who you are. I love it when girls embrace the things about their hair that makes it unique. That's what I'm trying to do.
1. "It's hard to maintain a steady skincare routine because I'm always traveling. But I try to wash and moisturize every night, and wear sunscreen. This one smells really nice and isn't heavy."
AVEDA Daily Light Guard Defense Fluid Broad Spectrum SPF 30, $42.
BUY IT: Nordstrom.com (opens in new tab).
2. "My everyday look is relatively fresh, with just a bit of foundation, lashes, and definitely brows. This is the best brow pencil."
CHANEL Crayon Sourcils Sculpting Eyebrow Pencil, $29.
BUY IT: Chanel.com (opens in new tab).
3. "My favorite way to experiment with makeup is doing something fun on my eyes, like this blue eyeshadow. I'm much more of an eye girl than a lip one."
MAC COSMETICS Eye Shadow in Atlantic Blue, $16.
BUY IT: Nordstrom.com (opens in new tab).
4. "I've been using this line since I was a little girl; it helps keep my hair looking healthy."
JOHN FRIEDA Frizz Ease Extra Strength Hair Serum, $10.
BUY IT: Ulta.com (opens in new tab).
This article appears in the August 2017 issue of Marie Claire, on newsstands now.