Our Weekend with the "Ponys"
We caught up with a glamorous trio from across the pond after their trip to Philly for a music festival.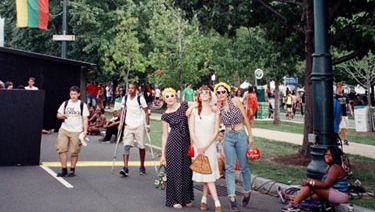 (Image credit: Archives)
Ponys/poe-knees/noun: 1. Girls from any walk of life who shares the common strand of sisterhood. 2. A group of girlfriends who enjoy going on all kinds of adventures together and/or staying in on a Friday night to read and write poetry. When these ponys venture out their undertakings are known to go by the, the "Pony Express."
All aboard the Pony Express! First stop, Philadelphia for the Made in America music festival.
Day 1
What's red, white and blue polka dots all over, with some fresh flowers as a hair accessory? We were. And once we felt we had embodied the Yankee Doodle Dandy theme to the best of our abilities we were off to the races, and by races we mean to the music festival. We love a theme. We also love the idea of a performer needing emergency back up singers/dancers and like to be prepared. Dressed accordingly we stepped out into the dusty, music-filled air knowing what pushing to the front of the crowd was going to mean for our dry cleaning bills but persevering, nonetheless. Muddy duds never outweigh an up close and personal serenade by your favorite musician.
There are a couple of important things to remember about music festivals:
1. Be aware of what your accessories say to others. For instance, your Barbie-head-key-chain can read, "tortured artist" or "extreme danger/move away." Think about who you are trying to attract.
2. Recognize your essentials. For us, these are sunglasses, boxy bags, and fans (there's a difference between a sweat and a glow... Are we right ladies?).
3. Always make new friends. Sometimes a stranger is the ultimate accessory in your photos. 4. Be sure to catch all the acts that don't tour as regularly as you would like them to. For this festival, it was D'angelo and Jay Electronica. If you ask us, D'angelo has still got it and Jay Electronica is a magical creature of a hip hop artist(similar to that of a unicorn or David Bowie in Labrynth).
Day 2
When in Rome, take a look around and see what all the noise is about. In an attempt to get to know Philly a bit better, we, the Ponys, set out to unearth a richer, more cultured side of the city on our second morning. After a leisurely stroll through Rittenhouse Square, we popped into Parc, as per our very chic friend and native to Philly, Joe's recommendation. We love a restaurant that knows the importance of dim lighting and a coffee cup that is always filled. We ran into our friend Emmy Rossum there who was hipping us to her Instagram skills.
With our new caffeinated and brighter dispositions, we walked over to The Barnes Foundation and it was incredible. If you want to see the most insanely curated collection of Renoir, Cezanne, Braque, Matisse, Picasso, and Soutine get yourself to The Barnes ASAP. Dr. Barnes' salon style way of placing his paintings in close clusters(which he referred to as ensembles, by the way), kind of makes you feel like this is what it would be like if your Grandma had the most beautiful art collection in the world. Taking a trip to Barnes is a must, we recommend making a reservation and bringing a sweater.
Since the museum was only a block away from Made in America, we decided to take our full looks of the day, which can best be described as Eva Peron through the ages; from Girl to Goddess, over to the festival for a second look around.
We caught the last half of the DJ Shadow show, moseyed over to catch Run-D.M.C. and ran into The Hives before catching the Odd Future set. We then left and took our looks home to bed where we ate ice cream and watched a Ted Kennedy documentary.
All and all, Philadelphia is a classy town, with some of the most polite people on earth, we want to thank you for all of the compliments and smiles you gave us this weekend.
Love,
The Ponys
Celebrity news, beauty, fashion advice, and fascinating features, delivered straight to your inbox!