Editors handpick every product that we feature. We may earn commission from the links on this page.
The Best SPF-Filled Moisturizers That Won't Disappoint
They're lightweight, non-greasy, and won't break you out.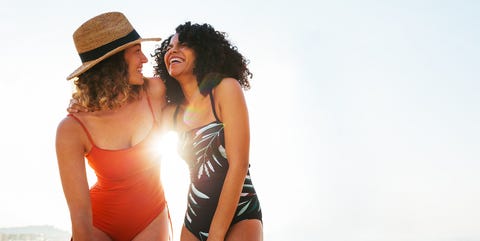 No matter how fancy or low-maintenance your current skincare routine happens to be, you need to be using sunscreen. No, just listen—you need to be using sunscreen. Not just because one American dies of cancer every hour, and not just because even small amounts of sun exposure contribute to wrinkles, fine lines, dark spots, and irritation on your face and body, but because all of the cool kids are using them, and you want to be cool, too, don't you? Yes, sunscreens have gotten a bad rap for being thick, pore-clogging, and greasy, but today's formulas are so lightweight and creamy, they're basically just moisturizers with UV ray–blocking superpowers. And to make the process even easier for you—so you have no excuse not to slather one on your face every morning—we went ahead and broke down the ten top-rated, tested-and-approved facial moisturizes with SPF that'll keep you protected all day long.
From drugstore favorites to the best at Sephora, there's a formula suitable for every skin tone sure to meet all of your skincare needs. Now please, just give into the peer pressure and use one already. Find the best sunscreen for your skin type, ahead.
This content is created and maintained by a third party, and imported onto this page to help users provide their email addresses. You may be able to find more information about this and similar content at piano.io