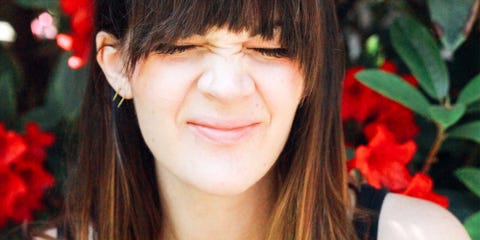 You need to be using sunscreen. No, just listen—you need to be using sunscreen. Not just because one American dies of cancer every hour, and not just because even small amounts of sun exposure contribute to wrinkles, fine lines, dark spots, and irritation, but because all of the cool kids are using them, and you want to be cool, too, don't you?
Yes, sunscreens have, historically, gotten a bad rap for being thick, pore-clogging, and greasy, but today's formulas are so lightweight and creamy, they're basically just moisturizers with UV ray–blocking superpowers. And to make the process even easier for you—so you have no excuse not to slather one on every morning—I went ahead and broke down the five top-rated, tested-and-approved moisturizes + SPF that'll keep you protected all day long. Now please, just give into the peer pressure and use one already.
This Ultra-Lightweight Mousse
Supergoop! Super Power Sunscreen Mousse Broad Spectrum SPF 50, $34
Little known fact: The absolute minimum level of SPF you need to use is SPF 30—anything lower simply isn't that effective. (Surprisingly, anything higher than SPF 60 doesn't actually provide better protection.) This airy, fast-dry formula has an SPF of 50 (right in the sweet spot) that's also broad-spectrum—like all the moisturizers on this list—meaning it protects you from both cancer-causing UVB rays and wrinkle-causing UVA rays (that should be a given in all sunscreens, but it's not). It's also crazy lightweight, making it perfect for oily skin types.
This Rich, Antioxidant-Packed Cream
Origins A Perfect World SPF 40 Age-Defense Moisturizer , $44

Here's the deal with antioxidants: They block free radicals (i.e. enemy molecules that come from sunlight and pollution) from wreaking havoc on your skin in the form of wrinkles, dark spots, and sagginess. Here's the deal with this thick, rich moisturizer: It's filled with antioxidants. That alone should be enough of a selling point, but the fact that it has SPF 40, soothing white tea extract, and five hydrating fruit oils doesn't hurt, either.
This Hydrating Sunscreen Milk
La Roche-Posay Anthelios 60 Melt-In Sunscreen Milk, $36
Every year, Consumer Reports tests and ranks a zillion sunscreens on their level of awesomeness (i.e. their effectiveness at protecting against UVA and UVB rays), and every year—okay, for the last four years—this lightweight milk places first with a perfect score. Usually, you only find SPF 60 in a thick, heavy-duty sunblock, but this SPF-loaded moisturizer feels feather-light on your skin and dissolves down to a completely non-greasy finish after you smooth it on.

This Brightening Daily Lotion
Aveeno Active Naturals Daily Moisturizer with SPF 30, $14

There's a reason you've seen this lotion everywhere for the last decade: It's really freakin' simple and effective. The formula dries to an ultra-light, semi-matte finish, making it excellent for all skin types. And, as a major bonus, it's filled with soy extract, an antioxidant that lightens discoloration and evens out your skin tone over time, so you'll actually get yet another reward for diligently using your sunscreen every day (really good skin, in case that wasn't obvious).
This Sheer Tinted Sunscreen
Suntegrity Skincare 5-in-1 Natural Moisturizing Face Sunscreen, SPF 30, $45
Though this formula is packaged as a straight-up sunscreen, it's actually more like a tinted moisturizer—mainly because it's literally a tinted moisturizer. Available in four shades, this natural sunscreen is ultra-moisturizing (thanks to its aloe and coconut oil extracts) and surprisingly soothing (a result of its cucumber and green tea extracts), making it a true all-in-one product. It also earned a number-one rating by the EWG (Environmental Working Group) in its annual sunscreen guide, so you know it's good.