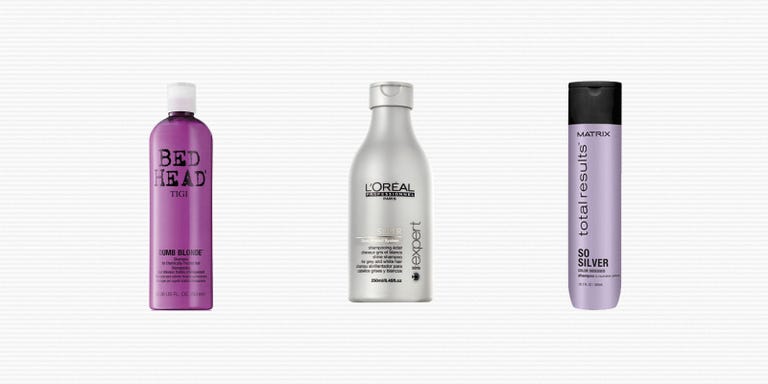 Hell may have (hath?) no fury like a woman scorned, but have you ever seen a girl whose blonde has gone sallow? Yeah, yikes. Below, 10 purple (and silver and blue) shampoos for keeping your rather expensive dye job true—and saving you from dropping more $$$ on color correction.
Can you really call yourself a blonde if you don't have a bottle in your shower?
Clairol Shimmer Lights, $7, bedbathandbeyond.com.
Contains coneflower (sounds cool) to intensify color and eliminate yellow tones.
Aveda Blue Malva Shampoo, $40, nordstrom.com.
You know what the purple bit does, but this also de-frizzes for Dandelion Head Avoidance™.

Joico Color Balance Purple Shampoo, $34, ulta.com.
You know when you haven't washed your hair in a few days and the highlights get kind of dishwater-looking? Use this.
BLNDN Brightening Shampoo, $22, blndn.com.
John Freida Sheer Blonde Go Blonder Lightening Shampoo, $10, ulta.com.
The "tone" part of your tone and treat routine.
L'Oréal Professionnel Silver Shampoo, $9, amazon.com.
Them: "Illuminates highlights on blondes and adds shimmering brightness to grey and white hair." You: O-KAY!
Matrix Total Results So Silver Shampoo, $13, ulta.com
Plot twist: This guy doesn't technically have purple or any tones in it, but some of fashion's iciest blondes swear by it.
Alterna
Perfect Blend Shampoo, $60, dermstore.com.
Vibrancy and softness in one. What else even is there?
TIGI Bed Head Dumb Blonde Shampoo, $29, ulta.com.