Can a Retinoid Help Treat Acne Scars? Experts Explain
We're here to manage your expectations.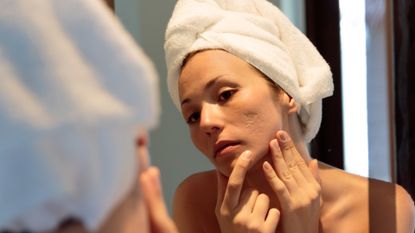 (Image credit: Getty)
Marie Claire Newsletter
Celebrity news, beauty, fashion advice, and fascinating features, delivered straight to your inbox!
Thank you for signing up to Marie Claire. You will receive a verification email shortly.
There was a problem. Please refresh the page and try again.
Skincare is powerful—but it's not magical. A caffeine-packed eye cream will brighten; it won't make dark circles disappear. A lip plumper will make your pout appear bigger; it doesn't take the place of filler. And when it comes to acne scarring? Retinoids can help; but they probably won't make them disappear. "There are many benefits to using a retinoid, but it's important to understand that they can't do everything," cautions board-certified dermatologist Dr. Dustin Portela. "If you have deep scars, or significant pigmentation you are likely to need additional therapies to improve the appearance."
That in mind, there are still plenty of benefits to adding a retinoid into your routine. They can speed up the rate of cell turnover, which can actually reduce the likelihood that you'll end up with a scar in the first place. To get the full rundown on what retinoids can—and can't—do for your scarring, keep reading.
But First: What's an Acne Scar?
One of the biggest misconceptions out there is that post-inflammatory hyperpigmentation (PIH), which is the *temporary* mark left behind by a pimple is the same as a scar. PIH will fade over time (likely six weeks), but a scar is pretty permanent. "Acne scars are changes in the skin's texture following acne lesions," explains Dr. Portela. "They occur when the acne lesion is deep enough, or the inflammatory response is great enough, to disrupt collagen in the dermis."
When this kind of trauma happens, your skin will create either a raised or depressed scar. "Acne scars can be separated into atrophic (indented) or hypertrophic (raised) types," he adds. "Atrophic scars may further be classified as ice-pick, rolling, or boxcar scars depending on their depth and width."
Realistically, How Much Can a Retinoid Help?
A retinoid's main job is to speed up cell turnover, which in turn can reduce the likelihood of acne, and to build more collagen in the skin. The combination of both processes has the potential to reduce the look of *some* types of scars. "Topical retinoid medications may help to reduce the appearance of acne scars over time through the production of new collagen," explains Dr. Portela. "They are more likely to help shallow rolling types of scars. Deeper ice-pick scars, or broad boxcar style scars probably won't show much improvement even with continued use of retinoids." In layman's terms, that means that general changes in texture can be improved over time (think: around a year), but small, narrow scars or deep, rounded craters in the skin will remain status quo.
What retinoids can do? Dramatically speed up the rate at which your post-inflammatory hyperpigmentation fades—and serve as a crucial component in the treatment of active acne. "Retinoid medications help the skin turn over more quickly which can help to carry away unwanted pigment in the upper layers of skin," says Dr. Portela.
What Kind of Retinoid Should I Look For?
I won't get into the nitty-gritty, but not all retinoids are created equal. "Prescription-strength retinoid medications are likely to give better results in the treatment of scars," explains Dr. Portela. "You're delivering a higher dose of activated retinol to the skin so it can go to work immediately." Over-the-counter retinol, a.k.a. the ones you can get at the drugstore, Sephora, or Ulta, "have to be converted in the skin to the active form before it will start to work." That means that while it might be gentler on the skin, you are getting a lower percentage of the active ingredient to your skin.
How Do I Incorporate a Retinol Into My Routine
If you're new to retinol or retinoids, ease into the process to avoid dryness. "I tell my patients to use their retinoid every second or third night when starting out," says Dr. Portela. "If you use more you are at a greater risk of irritation." Your retinol should be the first product on clean skin in the evening and always followed by a fragrance-free moisturizer. "As the skin tolerates that application more you can increase the frequency of retinoid to daily use."
What Else Should I Do to Fade Acne Scars?
Using a retinoid is only going to be a part of the treatment equation for acne scars. The best plan for you will be decided on by your dermatologist, but chances are deep scars or intense pigmentation will require additional therapies. One thing to consider? Resurfacing lasers to treat your acne scars. "Lasers like CO2 or Erbium can help to remodel deeper layers of scar tissue to break up scars and build healthy collagen," says Dr. Portela. "Other lasers will be much more effective at removing unwanted pigmentation." More intense topicals, such as hydroquinone or kojic acid, may also be used to target pigmentation.
Meet the Dermatologist
Dustin Portela, DO, is a Board Certified Dermatologist and Dermatologic Surgeon. He is certified through the American Board of Dermatology, the largest national group of board certified dermatologists. Dr. Portela is an Idaho native having grown up in Southeast Idaho. His professional interests include skin cancer surgery and facial reconstruction, skin cancer prevention, complex medical dermatology and wound healing. Dr. Portela has lectured at national dermatology meetings and has published articles in several medical journals. Dr. Portela graduated with an Honors-Bachelor of Science in Zoology from Idaho State University. He received his medical degree at Des Moines University in Des Moines, IA graduating among the top of his class and being recognized with the Award for Excellence in Physiology. Following medical school Dr. Portela completed his internship through Michigan State University at the Oakwood Southshore Hospital. His residency training in Dermatology and Cutaneous Surgery was completed at Michigan State University through the Beaumont Trenton Hospital in Trenton, Michigan, where he also received his training in Mohs micrographic surgery and was recognized with the Excellence in Dermatologic Surgery Award. Dr. Portela's professional memberships include the American Academy of Dermatology, American Society for Dermatologic Surgery, American Society for Mohs Surgery, and the American Osteopathic College of Dermatology. Dr. Portela enjoys all aspects of dermatology, from skin cancer treatment and post-surgical reconstruction to cosmetic enhancement, as well as the care of both adult and pediatric patients.
Celebrity news, beauty, fashion advice, and fascinating features, delivered straight to your inbox!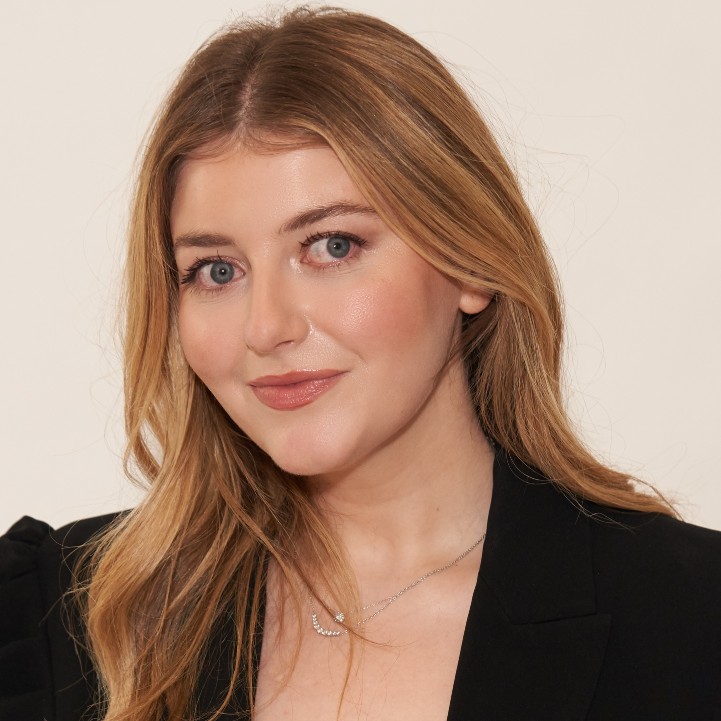 Samantha Holender is the Beauty Editor at Marie Claire, where she reports on the best new launches, dives into the science behind skincare, and keeps up with the latest trends in the beauty space. She has previously written for Us Weekly, Popsugar, Makeup.com, Skincare.com, and Philadelphia Wedding. Follow her on Instagram @samholender.