4 Sh*tty Work Situations That Get Better When You Speak Up
No doormats here.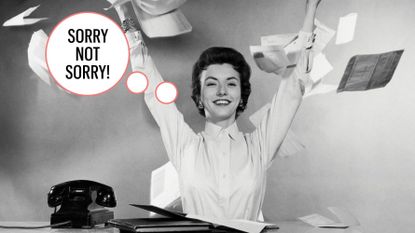 (Image credit: Getty Images ¦ designed by Dana Tepper)
Those long, arduous workdays when you just. can't. with overly cutthroat colleagues or a boss who piles on the menial tasks? Unfortunately, they're par for the course.
But that doesn't mean you need to grin and bear it. Sure, an easy-going attitude and ready smile go a long way in the workplace, but being likeable isn't—and shouldn't be—your only key to success. You want to be respected, and one way to get that collective thumbs-up from your colleagues and managers is by decisively and diplomatically standing up for yourself.
Being assertive means you don't accept being treated like a doormat (awesome!), but it doesn't mean being aggressive or bitchy (*not* awesome). You want to make sure you speak up for yourself and your needs calmly, tactfully, when it's appropriate. Here are four times you should stick up for yourself when your job lands you in fight-or-flight mode:
1. When you're drowning in work.
The boss "voluntold" you to create a presentation for the company's next board meeting while you're juggling 85 other projects and filling in for your coworker on her honeymoon, and it's 9 p.m. on the Sunday before a work trip to Singapore. So convenient! While replying with "You got it!" and pushing through seems like the right response, if you're burning out, you need to let your boss know.
Shoot her a note saying, "Could you help me prioritize my current projects? I want to be sure I can execute all the tasks on my plate at the moment." It's a cool, calm and collected way to make her aware of an impossibly heavy workload while letting her weigh in on what's most important, and it could prevent burnout from potentially wreaking havoc on the quality of your work—and your life.
2. When you're not being given the assignments you want.
Like Shiri Appleby's eternally conflicted character Rachel on Lifetime's UnREAL, you're beyond flattered when your boss offers you the promotion of the century—but it's not at all the direction you want your career to take.
Or, your dream project is on the table, and you've been kicking butt all year to earn it. In a move that blindsides you silly, your boss gives it to the new hire on your team.
Instead of going down a path you know isn't for you, or passively watching the next major assignment go to another teammate, schedule some time to meet with your manager about your professional goals, ideal assignments, and what you'd like to work on next. Chances are she needs to be educated about your career goals—and reminded once in a while. So don't be afraid to schedule a follow-up to your conversation!
3. When your co-worker takes all the credit.
It sucks, but if a limelight-hogging opportunist can take credit for someone else's hard work, you better believe they will. It won't matter if it's publicly mid-meeting or sneakily on an email chain. (A wise word of workplace caution says if you don't take credit for your work, someone else will.)
You can only control the situation if you're there. And by control, we mean graciously setting the record straight without throwing anyone under the bus—a cool "Yes, to Jane's point, we're thrilled with the project's success, and I'm happy to answer any questions about the execution; it was my life this past quarter!" should do the trick—so everyone in the room is clear on whom to attribute the work, the credit-stealer included (bud nipped). Despite popular opinion, shooting daggers across the table with your eyes won't solve anything.
4. When a conflict with a colleague affects you emotionally or disrupts your work.
Not talking pet peeves (sorry, but offensively aromatic leftovers during lunch are another story), but if a conflict between you and another coworker is negatively affecting your workflow, or if you're feeling personally attacked, you should bring it to your supervisor's attention.
Anyone with Nice Girl Syndrome knows the nauseous—or blood-boiling—feeling that confrontation with a coworker can provoke, so don't head into it unprepared. Calmly cite clear examples and focus the conversation on what you need, articulating what you'd like to see happen. Remember, you do your best work in an environment where you feel respected and comfortable. Speaking up about your needs is a first step in that direction.
Tune in to the second season of UnREAL, premiering on Lifetime on June 6th at 10/9c.
Follow Marie Claire on Facebook for the latest celeb news, beauty tips, fascinating reads, livestream video, and more.