Cartier's Women's Initiative Award Winners Prove Women Will Change the World
Twenty-one female founders of socially-minded companies from every continent were honored at the ceremony in San Francisco.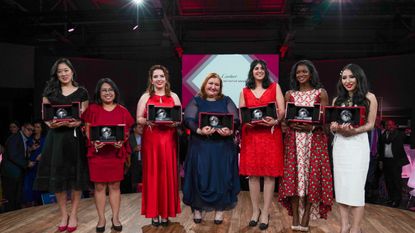 (Image credit: Cartier)
No matter how pessimistic you might be about the current state of the world, it's hard to stand in a room with the finalists of the Cartier Women's Initiative Awards (CWIA) and not feel hopeful. These 21 women are working to save us from cancer and student debt and obesity and loneliness in old age and dozens of other issues that they view as opportunities to do good and make money at the same time.
After a thorough and months-long application process, the nearly 2,900 applications from female founders in more than 140 countries were whittled down to 21 finalists. Following a week of coaching and networking, on Thursday, Cartier International CEO Cyrille Vigneron announced the seven laureates (one from each region of the globe), each of whom will receive $100,000 to help scale their company.
"These women are making amazing change in some really interesting, life-saving, and life-changing industries," Mercedes Abramo, president and CEO of Cartier North America, tells MarieClaire.com. "For us to be able to give to that and to support that, it really embodies the sort of bold and curious entrepreneurial spirit that we have inside the company."
North American laureate, Ran Ma's company, Siren, is quite literally life-changing. The proprietary neuro-fabric Ma and her team created is embedded with tiny sensors; that fabric is sewn into socks worn by diabetes patients to monitor temperature and prevent diabetic foot ulcers or, worse, amputations. (An estimated 138,000 lower limb amputations take place in the U.S. each year due to ulcers.)
The 32-year-old dropped out of her masters program at Northwestern University to move to San Francisco and turn Siren into a thriving business. But despite living in the startup capital, growing her business hasn't been easy. "I've never seen this many women in the last four years of living here," Ma tells me at a breakfast with fellow finalists. "The hardest thing about being a woman in STEM is that there are just so few of us. I've had investors and mentors comment on my behavior or my looks. I like to dress up, I'm feminine, and they'll comment on that. It's because they never see that many of us."
Ma says that in meetings with investors or clients, she's often mistaken for an assistant, rather than the CEO. "I don't blame them; it's just pattern recognition," she says. "I think any woman in STEM is important, but I want more especially at the top so that when a group of people walk into a meeting and see a girl, they think, She's the CEO or She's the engineer."
In the U.S. women still receive just two percent of venture capital funding—one reason the CWIA is for female founders. The program isn't just aimed at solving global problems, it's about parity in business and entrepreneurship. "It's a coaching program, it's a mentor program, it's access to networks, which we know is one of the challenges that women have—getting access to the right networks of people," says Abramo, who herself was the first female CEO of Cartier North America.
Technically it's a competition, but with the isolating nature of female entrepreneurship, it seems the contestants themselves view it as a community. "It's just so pleasant to still talk about tech, still talk about entrepreneurship, but with kindred spirits," says Ma. "We're women from around the world, and we all have something in common—our drive, our passion, working to do good in the world, but also being really strong businesswomen. I honestly very rarely get to encounter that."
Ma may be the one going back to her office with the top prize money, but her fellow North American finalists were no less impressive. Twenty-five-year-old Emily Levy (the youngest of this year's finalists) is the founder of adaptive-wear company Mighty Well, which makes clothing and accessories for people living with long-term medical devices, like a PICC line, which she has to have as a chronic lyme disease patient herself. While Margaret Magdesian, 46, founder of Ananda Devices, is actually growing mini human brains and spinal cords on micro-chips (yes, you read that right) to better study neurological diseases.
Both women echoed Ma's frustration of the discrimination and unconscious bias that comes with being a female entrepreneur—Levy says she has walked out of investor meetings crying—and both echoed her appreciation for this new network of fellow businesswomen and the spotlight that's being shone on them.
"Whenever you enter a meeting as a startup company and a minority, people look at you and say, 'You're not Mark Zuckerberg. You're not a boy. You're not a college dropout,'" says Magdesian. "And I say, 'No—I've finished all my degrees. Isn't that amazing? I finished college, masters, Ph.D. And I'm a mom of two kids. And I can build a business as well.'" With these women leading the way, that shouldn't be so amazing for much longer.
For more stories like this, including celebrity news, beauty and fashion advice, savvy political commentary, and fascinating features, sign up for the Marie Claire newsletter.
RELATED STORY
Marie Claire email subscribers get intel on fashion and beauty trends, hot-off-the-press celebrity news, and more. Sign up here.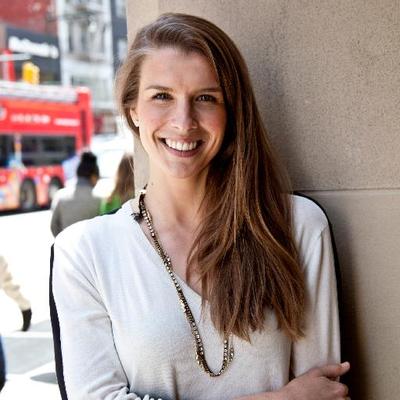 Danielle McNally is a National Magazine Award–winning journalist. She is the executive editor of Marie Claire, overseeing features across every topic of importance to the MC reader: beauty, fashion, politics, culture, career, women's health, and more. She has previously written for Cosmopolitan, DETAILS, SHAPE, and Food Network Magazine.