How Cathy Engelbert and the WNBA Pulled Off a Slam-Dunk Season
Engelbert brought business savvy, and compassion, when the WNBA needed it most.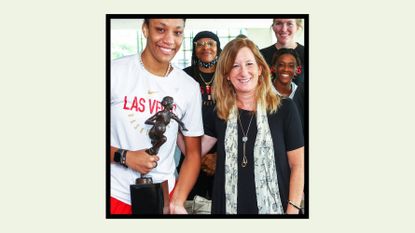 (Image credit: NBA Photos)
Marie Claire Newsletter
Celebrity news, beauty, fashion advice, and fascinating features, delivered straight to your inbox!
Thank you for signing up to Marie Claire. You will receive a verification email shortly.
There was a problem. Please refresh the page and try again.
The 2020 WNBA season was undoubtedly remarkable—a dozen teams, each made up of some of the top athletes in the world, battling it out in total isolation—but it almost didn't happen. In mid-March, when the COVID-19 pandemic shuttered the doors of business and restaurants, it also closed the courts of sporting arenas. The WNBA, a summer sport, was a mere month away from their draft, less than two from tip-off. "We didn't have a lot of time to try to plan," says Cathy Engelbert, the WNBA's first commissioner (the role was previously titled "president").
When Engelbert first came on in 2019, the WNBA was already at a pivotal point in history. Players were demanding long-overdo protections and rights (like full maternal leave and childcare options), and the league was in desperate need of new sponsorship dollars to fund its future. Already faced with two big challenges, Engelbert was thrown another one. But she didn't flinch. A corporate titan who spent 33 years at Deloitte, the last four of which she served as the company's first female CEO, Engelbert had the experience to manage crisis. Despite little time to figure out a solution, Engelbert came up with five: one including a full season; another, no season.
Finally, she decided on a safe option that would protect the players and salvage the season, a necessary solution to keep the league afloat: The WNBA Bubble at IMG Academy in Bradenton, Florida.
Her decision paid off. The WNBA has since made strides both on and off the court: On the court, impressive play has drawn an audience in historic (and virtual) numbers: The WNBA reports a 68 percent increase in regular-season viewership across all networks, despite the fact that the teams played without the support of in-arena fans. And even while keeping their eye on the ball, the athletes have not sidelined what matters most: Equality. Countless WNBA players have used their platforms to speak out against racial injustice. The league staged walkouts, postponed games, and warmed up in shirts that said "Say Her Name" to bring awareness for Black female victims of police brutality. (The Women's National Basketball Players Association even designed a shirt, left, with all proceeds going to The Breonna Taylor Foundation.)

Below, Engelbert shares how during a history-making moment, she led the WNBA into a new and brighter future.
Marie Claire: Take us back to April. What was it like deciding to host the WNBA season in a bubble?

Cathy Engelbert: It's funny to look back at...we didn't call [IMG] a bubble, we called it a clean site. At one point, I stepped back and said, "We really need principles." So our principles were: One, the health and safety of the players and staff that would be attending The Bubble. Two, we wanted a highly competitive environment, and three, and this came about after the George Floyd murder, was that the players wanted to be bigger than basketball.

MC: You joined the WNBA during a transitional period: The players were unionizing, entering their collective bargaining agreement, and asking for new protections and resources like full paid leave. You helped shepherd that into existence. What were your main goals in terms moving the league into a new and brighter future for its players?
CE: I've had 33 years in business before I came into this role, so I've been a part of many negotiations throughout my career. I'll never forget [the WNBA Players Association negotiation]: I was with the league for four days, and flew to Las Vegas for the WNBA All Star Game. We had a three-hour meeting with the union, and the lawyers from both sides, the [team] owners, and me. I hadn't met any of these people ever before.
After that one three-hour meeting, it hit me that both sides came to the table with essentially the same goal: Lift the women of the WNBA. Lift women's sports overall. Recognize the uniqueness of female athletes who are also moms, actresses and TV personalities. In a negotiation, that's [usually] not what happens. You have opposite goals. It was okay, I get this. We need to enhance childcare benefits. We need true maternity leave. We need a childcare stipend. We need progressive family benefits on costs related to adoption and fertility treatments. That's the easy stuff. [What's difficult is] we have to actually transform the league to come up with a revenue model to pay for all of it.

You can't just grant benefits. It sounds great, and I look like a hero, but you actually have to have the revenue model. A lot people missed that, and that's what we've been working really hard on. It is unfortunate we hit a global pandemic. We need to charge on, we need to find companies who share the vision and values of our league and the diversity of our league. I think we're well on our way with our WNBA Changemaker platform and signing up AT&T, Deloitte, and Nike. There's a lot of companies out there that I know want to support these diverse women. We just need to find them.
MC: On the Olympic level, women's basketball is one of the winningest organizations in history, yet much of the ad revenue isn't there. WNBA TV ratings grew by 64 percent in 2019, so we know there is interest.
CE: Less than 1 percent of all global sports sponsorship dollars go to women's sports, and less than 5 percent of all media coverage of sports covers women's sports. Coming from a financial background, I immediately said, "Okay, could someone give me the numerator and the denominator." When you find out the denominator, it's huge, because men's sports are so huge. And when you add men's sports to women's sports to try to move those, to keep those percentages up, which really wasn't a challenge I wanted to take on, it's not that easy when the denominator is so big.
It goes back to the valuation question: How to value women's sports. Even if we had the greatest rating and the greatest viewership, that's still not going to change a valuation model. We have to find companies who want to support us as part of their narrative. We were targeting traditional companies that were supporting men's sports. Now, we've got to find our niche. We have our silver anniversary season coming up, and are the first women's sports league in the U.S. to actually survive that long. Hopefully we'll survive in the future. But it's not easy.
MC: What were some learnings, realizations or approaches that you've taken from your corporate background into the WNBA, and have they been effective?
CE: Everyone thinks sports are different than business. Something I've noticed in my first year in sports is that business and sports have a lot in common. From that perspective, it's been an easy transition for me. Sports is big business, and business is about relationships. And relationships are the way you sell a league. So that's all very similar to kind of what I did professionally.

Another learning is crisis management: I've encountered a bunch of crises over the course of my career. Did I ever think I'd be in the middle of a live sport during a global pandemic and have to play a season in a bubble, and have enormous social unrest around us due to police brutality and racism across the U.S.? No, never. But I think there's a lot of learnings that you can take from that. When you're in crisis, the first thing that happens is your weaknesses get amplified. The second thing that happens is, as a real leader, you recognize that you actually have an opportunity to fix stuff. Coming into the WNBA, hitting this pandemic, I thought about our weakness...and how could we fix them. It was almost like 33 years have just prepared me for this time.
MC: How do you, as a leader, keep your long-term goals in focus when you're dealing with present problems?
CE: As a leader, you have to keep your eye on the strategy. So we have these three pillars: Player first, league, fan engagement, and expand revenue models. Obviously, the health and safety of players came first. Everything shifted to that. There is stuff that we put on hold. There's no doubt about it. There were budgets that we cut in the marketing area. You have to balance the opportunities that you have with, again, the strategy. Every decision we made, I said, "Let's map this back to the three pillars, and if it's meets one of them, we're going to go ahead and do it." We could have been bolder, but faced with a pandemic and then with the social unrest in this country, I think we did the best we could do.
MC: Over past eight months, we've seen athletes in various sports, including the WNBA, stand up, own their platforms, and speak out for racial and social justice. What was it like as a leader working with players to make sure that they felt heard?
CE: When I first started as CEO at Deloitte in 2014, employee activism was zero percent of my time. By the time I left and came to the WNBA, it was a significant part of every day as our employees started to become more active. It became more important that they heard their leader authentically using their voice around the things that mattered to them.

When I took this job about a year ago, I really didn't know about the strong social justice platforms of the WNBA players, because I was so busy at Deloitte and with my kids. I had heard about [all-star and MVP player] Maya Moore stepping back for a year from basketball [in 2019 to focus on reform in the justice system]. And now, think about this: Millions know what the WNBA players stand for. I continue to be so impressed.
The players are bigger than basketball. They did not want to come [to The Bubble] and play basketball without having a mission. That's why we launched this WNBA Justice Movement. We formed the Social Justice Council. The mission was to be the driving force of continuing conversation about race, voting rights, LGBTQ+, criminal justice reform, advocacy around gun reform, and other important societal issues.
If we're going to lead with a very player-first agenda, my role as the commissioner is to support the players, amplify their voices as they advocate for social and racial justice and equality, and support this shift. I think they were way ahead of the shift. I think the players [are] ahead of men's sports.

MC: What are some new learnings that you've had, both professionally and personally, over this past turbulent year that have made you change your approach or try a new one?
CE: You never know what's going to be thrown at you. Your best-laid plans are going to be absolutely not what happens, and you have to have agility. You have to be an authentic leader. You've got to be a great listener. And when you're in crisis [you have to] look at your weaknesses and fix them. You still have to take risks in a crisis; even though it might seem counterintuitive, it's what's going to serve you well when you come out of it. And I am 100 percent confident that, having played this season, having invested in these players, having done everything we did, will make us stronger coming out.
Think about what happened after Jacob Blake [was shot by police]. We had an entire league together in one place, taking a pause, taking a moment of reflection. I have to say, 35 years now in the working world, I learned a lot from that. I learned a lot about solidarity. I learned a lot about the reason I took this job. These are the future leaders in our country. We need to find ways to help them after their basketball careers [end].
MC: You've described this as your "retirement job," but it feels like such a big next step and next chapter. What's your hope for the future of the WNBA?
CE: I really didn't think this would be a crazy, busy world for me. It's sports, it's fun, I love the game.
It's a transformative time for so many businesses, including the WNBA. If I can help in that transformation and change the whole part of women's sports that I think doesn't get the exposure, if I can have a little hand in that, that will make this all worth it. It's been a hard year; we had a lot of people who didn't think we could pull this off. A lot of naysayers out there, as always, for women's sports. But I think people are starting to sit up at attention and say, "Yeah, the WNBA did this, and the players played at the highest level, and they are the greatest at their craft in the world."
My hope as we get on the other side of this pandemic is that we learn from it. I know it's been really heavy burden on our players: knowing that people are dying from this virus and people are dying because of police brutality. My hope is for more optimistic times to come in the future.
Celebrity news, beauty, fashion advice, and fascinating features, delivered straight to your inbox!
Megan DiTrolio is the editor of features and special projects at Marie Claire, where she oversees all career coverage and writes and edits stories on women's issues, politics, cultural trends, and more. In addition to editing feature stories, she programs Marie Claire's annual Power Trip conference and Marie Claire's Getting Down To Business Instagram Live franchise.