MC@Work: Getting to Know Katie Bayne
As president of sparkling drinks for Coca-Cola North America, Katie Bayne reveals her secrets for getting ahead in a big company, the common mistake working women make, and how soda fits in to a healthy diet (really!).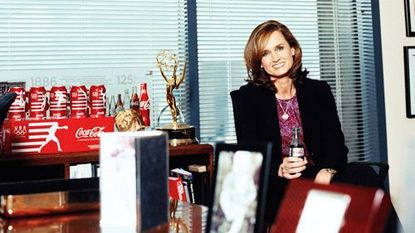 (Image credit: Ryan Pfluger)
Your father was the CEO of a copper mining company. Did you ever consider a career in mining?

I did! I was born in Australia, but we moved to the U.S. for my dad's job. When I was growing up, he'd bring me and my brothers to one of the huge mines in Salt Lake City every year to check things out — we'd ride around in the trucks, and they'd blow things up for us. But I really wanted to work at a company that was international and had marketing at its core.
After graduating from Duke's business school, you started at Coca-Cola as an assistant brand manager in 1989. What did you do there?

When I started at Coke, there were only 12 beverage brands. We realized consumers wanted variety, so things had to change. One of the first projects I ever managed was Tab Clear. This was during that period in the '80s when all products went clear, even dishwashing detergent. We took a look at consumer desire for clear beverages, and though we didn't see it, Pepsi had put out Pepsi Clear and we felt we needed an answer in the marketplace. So we took one of our smaller brands, Tab, and put out Tab Clear. It wasn't very successful and isn't on the market anymore. But I was the low man on the totem pole, and luckily Powerade, which I also brought to market, became one of the fastest-growing brands for us.
It's often said that the best way to advance your career is to move from one company to another. You've done the opposite, staying put at Coca-Cola for 23 years. Why have you stayed?

That's the wonderful thing about working at a company with a broad reach. I've had 15 different jobs at Coke and lived in three cities. Many of those moves were lateral — some were even steps back, like when I went to Sydney in 1996 to help start a retail marketing arm for our South Pacific business. Since I didn't have much experience in that arena, it was a bit of a crapshoot. At that point, I'd only done pure marketing jobs, and I was working with people who knew a lot more than I did about commercial business. But I always went where there was a clear opportunity for development or if it was something the company needed. You go where the bar is low, and then you can make a real difference.
You also served as Coca-Cola's chief marketing officer, where you were responsible for some of the brand's most iconic commercials. Do you have a favorite?

The one I'm proudest of is our 2008 Super Bowl commercial "It's Mine," which showed balloons in the Macy's Thanksgiving Day Parade battling for a balloon bottle of Coke. The Charlie Brown balloon gets it. I loved that one.
[image id='4441f35c-2b5b-4558-b3f5-d468240800c8' mediaId='290c0a8a-5dcc-4149-a2be-c593a2e00246' loc='C'][/image]
Any moments you'd rather forget?

In 2004, I led an effort to put "vendotainment" screens with multimedia content on college campus vending machines. It was an abject failure. The music was annoying, the screens were clunky — students just wanted to get to class. Not only had I added to the cost of producing our vending machines, but sales of Diet Coke went down. Luckily, we'd only rolled it out at one school. Our philosophy is to try things, learn quickly, and either scale or fail. I learned that something may sound great in my head, but the consumer still may not want it. It's when you take your eye off the consumer that you end up with big lessons like that.
At 45, you're one of Coca-Cola's youngest senior execs. Give us one of your top tips for impressing your boss.

I'm always conscious of my boss' style and how he likes to receive information. Right now I report to Sandy [Douglas, president of Coca-Cola North America], and he and I are active texters. We both get a ton of e-mail and have been working together for four years, so I can send him three words on something and he'll write back. But Muhtar [Kent, chairman and CEO of Coca-Cola], I don't think he'd really appreciate texts. He's more of a short e-mail, copying my boss and his assistant.
What advice do you have for up-and-comers looking to stand out in a large company?

Moms today think of themselves as the CEOs of their homes: the "chief everything officers." But young women get in trouble when they try to be the chief everything officer at work. We put together a diverse workforce so that you're an all-star at something but you still need all the other people on your team. Everyone is good at something, but nobody's good at everything.
You're married with two young sons. How do you manage such a busy career with the demands of a family?

Your support system is critical. My husband, Sam, whom I met while I was working in Los Angeles, was in sports marketing and moved his business to go to Australia with me. I had my first son in Australia, and when we came back to the U.S., we thought always having a parent at home was important, so Sam founded a real estate firm so he could be flexible. I have to work hard during the week, but he can end his day at 5 p.m. to drive the kids to lacrosse practice. I take over when he has a weekend showing. He's nothing but supportive.
Do you have any ground rules about family time versus work time?

I'm not a morning person, but I insist on feeding my kids a hot breakfast, so I get up at 6:30 a.m., check e-mail, and make them something with protein: an omelet with ham and cheddar or whole-grain waffles with peanut butter. I try to be home every night by 6:30 p.m. I'm not a business-dinner fan, so I'll go to the restaurant but just order an appetizer and a drink and then excuse myself. After dinner, I work while my kids are showering or doing homework. I try to keep the BlackBerry out of sight at home, but I don't always succeed. It's on the table during work meetings, too. If I get a text from my kids, husband, or nanny, I look at it.
New York City Mayor Mike Bloomberg has proposed a bill that would restrict the sale of soda at restaurants and movie theaters to 16 ounces or less. You've opposed the measure. But do people really need that much soda?

Arbitrarily singling out one product and putting a limit on it will not solve the problem of obesity. Helping people understand what causes obesity and how to make good choices would be a much better way to go. Anywhere you buy a Coke, you can also buy Diet Coke. No other food or drink in the world has a light option available everywhere it's sold for exactly the same price. Any beverage can be part of a healthy diet, and Coke is a great way to get energy and uplift. It has calories, and it's up to people to be responsible about intake and outtake.
Do your boys drink Coke?

My kids drink everything. Part of my job as a parent, and why I like to be home for meals, is to teach them about nutrition so that they make the right decisions on their own later.
Do you drink Coke?

I love Diet Coke. It's my favorite. I probably have four a day, and I drink Powerade Zero after my morning run. In the evening, I'll drink Fresca, which goes beautifully with an adult beverage. Fresca and vodka is a great combination. Yeah, that's a good one.