10 Companies with the Best Work Perks Ever
Warning: Jealousy may occur.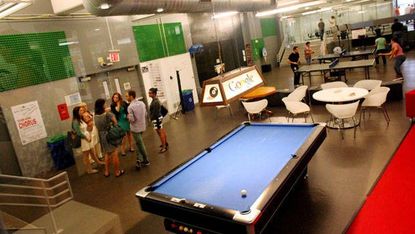 (Image credit: The Washington Post/Getty)
Starbucksrecently announced an exciting partnership with Arizona State University that will provide employees nationwide with free college educations via the school's online programs. The ubiquitous coffee chain isn't the only brand looking out for their employees. Other top names are realizing that awesome perks aren't just for fun – they also improve productivity.
Mars
The group that brings you everything from M&Ms to Pedigree pet food is especially kind to man's best friend. The pet-friendly office at Mars' Bolton headquarters in Canada lets employees bring their furry friends to work to hang out in their outdoor "doggie courtyard" or their indoor facilities, complete with free dog treats.
World Wildlife Foundation
As a conservation organization the WWF is all about saving energy, especially when it comes to their staff. Every other Friday employees have the day off to pursue personal interests. Informally known as "Panda Fridays," the program shrinks the team's carbon footprint, too, by eliminating a day of commuting and limiting energy use from the office.
Facebook
The rumors about the campus-like feel of this social media giant's HQ in Menlo Park, CA are true. Some of the best perks include commuter shuttles, free meals, fully stocked kitchens, and unlimited snacks. What could be better? Well, for one thing, new parents also receive $4,000 of "baby cash" to celebrate their new arrivals.
Google
Much like Zuckerberg's cool campus, Google's headquarters is a kooky work wonderland. Called Googleplex, (naturally) the Global Headquarters in Mountain View, CA has plenty of space for employees to exercise, like beach volleyball courts and a bowling alley. There are also tons of bikes and scooters to help employees get around.
Mattel
To the satisfaction of current and future working parents everywhere, Mattel is joining the list of companies helping moms and dads deal with their hectic lives. Instead of ditching every school field trip to save up vacation time, at Mattel employees are given paid time off specifically for school-related events.
Patagonia
If you have a passion for volunteering or want to try "voluntourism" then Patagonia, the extreme sports clothier, is the company for you. Their Employee Environmental Internship Program allows team members to leave work for up to two months to work at the environmental organization of their choice, full salaries and benefits included.
Microsoft
Sitting at a computer all day will leave you stressed, tense, and in need of a good stretch. Microsoft, the computer software and hardware innovators, know that better than anyone. That's why they provide employees with massages and yoga and Pilates classes. Need something with a bit more punch? Try one of their Life Coaches.
AOL
All hail the nap room. We're not sure who realized naptime wasn't just for preschoolers, but we are glad this trend is catching on. AOL jumped on the bandwagon early in 2011, installing MetroNaps Pods in their NapQuest rooms for employee relaxation. Workplace nappers may share some stigma, but they're definitely well rested.
Airbnb
It may not come as a surprise that the people who run Airbnb, the out-of-the-box travel accommodations site, love to get away. That's why the company gives its team a reason and the means to travel the world. Employees get an annual travel stipend of $2,000. Jealous? We are.
Intel
Intel is all about getting their employees active and relaxed, whether it happens inside or outside. Many of their locations feature recreational facilities to boost happiness and productivity. Their Folsom, CA campus alone boasts basketball courts, a pond with a walking trail, billiards, ping-pong, foosball, and more.
Related:
Job Facts Every College Grad Should Know

These Sites Help You With Your Student Debt

Help on the Web: Your Representatives Can Help You

This Senator Is Fighting for Student-Loan Reform

Are Recession Proof Degrees Really Worth the Six-Figure Debt?

Till Debt Do Us Part: His Student Loans Are Now Yours

Expert Financial Advice to Pay Off Your Debt
Photo Credit: The Washington Post/Getty
Celebrity news, beauty, fashion advice, and fascinating features, delivered straight to your inbox!