Kanye West Defends Kim Kardashian's 'Cultural Significance'
Even he'll play second fiddle to her star power.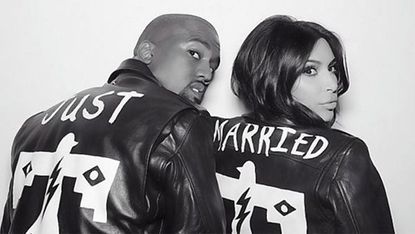 (Image credit: Archives)
Kim Kardashian (opens in new tab) likes to go big — and she'll never apologize for it (opens in new tab) — but as for who was the bigger bridezilla (opens in new tab) between her and Kanye West at their over-the-top wedding (opens in new tab), it was a toss up. Shedding more light on the matter is West himself in a new interview with GQ. (opens in new tab) In true Yeezus fashion, shade is thrown and shame is non-existent.
One of the hotter topics surrounding their nuptials was the ever-buzzy rumor that the couple had golden toilets at their wedding. In addition to chalking it up to farce, he takes a jab at their wedding planner:
"For the person that wrote that, were they involved with anything last year that was as culturally significant as the Yeezus tour or that album?," he offered up. "They didn't even talk there about the photographs, or the dress, or Andrea Bocelli singing, or the marble tables. They're like: "It's a gold toilet." No. The bathrooms—that usually would be a porta-potty—were wrapped in a fabric that was neutral to match the fort. The bar was terrible, and the wedding planner didn't approve it with me. I was having issues with this wedding planner the entire time on approvals, and I get there and they threw some weird plastic bar there. So the same materials that were used to cover the bathroom, we said, "Let's just use that, because this is all we have to make the bar look better."
If West seems displeased in that vain, he's even more steamed over criticisms of his new wife — particularly within the fickle fashion sphere. Fortunately, in her defense, the seating chart at their wedding says it all. The rapper took his wedding speech as an opportunity to call attention to it:
"I talked about the idea of collaboration and all the people involved working together and being able to change things. Meaning there was a time for two or three years where fashion designers wouldn't give Kim dresses. There was a time they wouldn't even let me be at shows. Now the idea that Kim is in a Givenchy Couture dress is raising the communication. Because people would be more apt to be like, 'Celebrities don't really have style. Celebrities can't dress. Celebrities are less educated.' But they haven't had the chance to be able to break through and have Carine Roitfeld sitting right there. Carine Roitfeld is the Walt Disney of what Tumblr is today. She is the Kanye West of what Tumblr is today. She's the single most important person to what street style is today. And she was at the wedding seven seats down from Kim, who is one of the number one fashion plates of today. So I said, "Wow, Carine is seven seats down from Kim. Farnaz [Farjam], the producer of the Kardashians and the producer of The Real World, is four seats down from [director] Steve McQueen. And four seats, because in between them is Hosain [Rahman] from Jawbone." This is what I talked about. That was not a forty-five-minute speech to myself. Do you realize what that means for those people to be in that close of a proximity to each other?"
When the writer brings up how many "likes," West and Kardashian's wedding picture received on Instagram, he gives all the kudos to his wifey (he does consider her the new Marilyn Monroe (opens in new tab), after all), but also acknowledges that they're unstoppable together. So commanding, in fact, that even Page Six fabrications can't rival them:
"Don't say you don't know [why the image got so many likes]! It's because of Kim," he explained. "Meaning there's no photo that I would have put up by myself, or next to one of my smarty friends, that would have got that amount of likes. So now you take this photo that has that amount of likes, and it has a flower wall from the same guy who does the Lanvin shows, and it has a couture Givenchy dress and Givenchy tuxedo in it. That's the point. Now the thing that is the most popular is also communicating the highest level of creativity. The concept of Kimye has more cultural significance than what Page Six could write."
Hyperbole aside, we have to agree with West. The same public that shows contempt towards Kimye, feeds their far-reaching flame. Of course West is going to riff off the "like" factor alone. Read the rest of the interview here (opens in new tab).
Lauren is the former beauty editor at Marie Claire. She love to while away the hours at coffee shops, hunt for vintage clothes, and bask in the rough-and-tumble beauty of NYC. She firmly believes that solitude can be a luxury if you've got the right soundtrack—that being the Rolling Stones, of course.