Zoe Saldana Isn't Going to Bash Britney Spears
She's a true friend.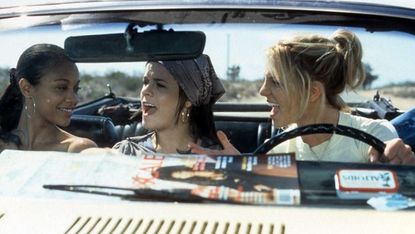 (Image credit: Archives)
Too often, women (both in Hollywood and otherwise) are encouraged to talk badly about one another. However, our August cover girl Zoe Saldana flawlessly avoided the pointless and unnecessary woman-against-woman stereotype when she defended her friend and former Crossroads co-star, Britney Spears.
Earlier this month a version of Spears' "Alien," leaked, supposedly without Auto-Tune. A few days later, track producer William Orbit posted a statement explaining that the track is a warm-up session, not the final take, but the issue remained controversial. When a fan asked Saldana if she had heard the unedited track last week when she appeared on Watch What Happens Live, she responded, "Well, that's mean because I'm pretty sure that 80 percent of our musical artists would be mortified if they were caught singing without their own Auto-Tune."
Saldana took the Q&A to another level and shed some valuable insight on how we, as women, treat each another. She explained that she has a huge amount of respect for Spears, adding that when she started to work in the industry, Spears was the one big star at the time she worked with who was "never about hating her neighbor."
Host Andy Cohen interrupts to applaud Saldana's response and move on ("Nice!"), but she wasn't done. Saldana continued, "I can name a lot of prominent figures right now, that today are more famous than Britney, that literally got to where they were at by hating on Britney a lot because it was 'cool' at the time to really just diss her. And Britney never did that."
She finished, "I do believe that people and children gravitate to good energy, and she definitely has an abundance of that." Cue the round of applause.
Spears sure is lucky to have such a dedicated friend — we can only hope we get to see a reunion soon! Watch the clip, below.
Related:
10 Popular Songs That Are Actually Feminist Anthems
10 Important Life Lessons We Learned From Clueless
Photo Credit: Getty Images
Marie Claire email subscribers get intel on fashion and beauty trends, hot-off-the-press celebrity news, and more. Sign up here.