The New Kind of True Love
We don't always need Prince Charming to save the day.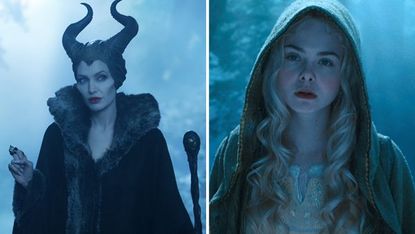 (Image credit: Disney)
Marie Claire Newsletter
Celebrity news, beauty, fashion advice, and fascinating features, delivered straight to your inbox!
Thank you for signing up to Marie Claire. You will receive a verification email shortly.
There was a problem. Please refresh the page and try again.
We know the standard Disney fairy tale formula by now: The princess is either cursed, trapped, or in some other major predicament, and only one thing can save her — true love. And that true love has always come in the form of a dreamy prince. Until now.
Disney's Maleficent has made a splash at the box office over the past few weeks, and besides being a cinematic masterpiece starring Angelina Jolie, it put a new twist on an old classic. It turns out the seemingly evil queen isn't so bad at all — she's been betrayed by the man she believed was her true love when he takes what is most important to her. In revenge, Maleficent seeks to lure his daughter, the princess, into an eternal sleep, but ends up bonding with her in a way we did not expect. Instead of Prince Phillip saving Aurora with that true love's kiss, it was a kiss on the forehead from mother-figure Maleficent herself that did the trick.
Strong female bonds are important to many women and a remain big part of many of our lives. Let's be real, there's just some times where you need a girlfriend, and the man in your life just doesn't get it. Mothers and daughters, sisters and friends — these are the female bonds that actually end up saving us the most in real life, so it's about time the movies reflect that. Especially Disney movies, which attract moviegoers of all ages.
Frozen was the first to shake things up last year. First, soon-to-be-queen Elsa actually attempts to talk some sense into sister Anna who wants to get engaged to someone she just met and doesn't know, shutting down the classic princess story formula from the beginning. After Hans won't even kiss Anna to save her freezing heart (since he's a complete jerk and was only using her to acquire the Kingdom of Arrendelle), we thought maybe noble mountain man Kristoff would be the solution. But it turned out to be the act of love between two sisters that saved the day. Anna's near sacrifice for Elsa thawed her own heart and showed Elsa how she can stop the eternal winter. Throughout the entire film, Anna's relationships to Hans, Kristoff, and even trusty snowman Olaf are totally secondary to the one with her sister.
These may be princess movies, but they represent so much more. Close relationships among women are crucial in today's world, whether we're battling congress for better gun control or coming together to decrease the wage gap. It's time that female solidarity is reflected in the movies we view.
Not only are we starting to get more female lead characters starring in movies (whether fantastical or animated), they're actually getting to love and care about each other — all without needing to be "saved" by men. Let's keep this up.
Related:

10 Books Every 20-Something Should Read


14 Things You Should Never Say to a Feminist


Chelsea Handler Stands Up for Women (and Herself) on Piers Morgan Live

Photo Credits: Courtesy of Disney
Celebrity news, beauty, fashion advice, and fascinating features, delivered straight to your inbox!