The Top 10 Times Robin Williams Moved Us To Tears
An incredibly rich career, even in a cut-short life.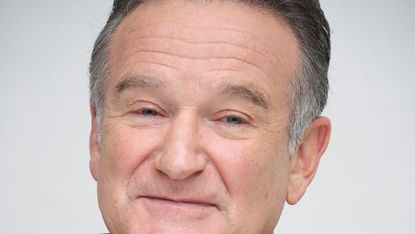 (Image credit: Archives)
Robin Williams
has
died at the age of 63
. The Hollywood star had more than 100 acting credits to his name, and although he'll be largely remembered for his comic roles, looking back through his career it's quickly evident that he was just as talented when it came to drama.
RELATED: Heartbreak All Over Hollywood In The Wake of Robin Williams' Death
Digital Spy
takes a look back at 10 incredible roles, from
Good Morning, Vietnam
to
World's Greatest Dad
, below:
1. Good Morning, Vietnam (1987)
One of Williams's earliest and most memorable roles on the big screen came in Barry Levinson's Vietnam war comedy, in which he played radio DJ Adrian Cronauer. Newly appointed to the Armed Forces Radio Service in Saigon, the anarchic Cronauer alienates his military superiors but endears himself to soldiers and colleagues thanks to his irreverent humor and insistence on reporting censored news.
2. Dead Poets Society (1989)
There's a reason why the Walt Whitman line 'O Captain! My Captain!" has played a prominent role in so many of the tributes that have poured in for Williams. His performance as archetypal inspirational teacher John Keating, who encourages his overly disciplined students to focus on the concept of "carpe diem", may remain his most iconic, and earned him his second Oscar nomination.
3. Awakenings (1990)
Penny Marshall's moving drama about a doctor who finds himself on a ward full of catatonic patients paired Williams with Robert De Niro, and he more than held his own against one of cinema's acting titans. After a run of comedy hits, Awakenings proved that Williams had a considerable talent for drama as well as locating audiences' funny bones.
4. The Fisher King (1991)
One of Williams's best against-type performances came in Terry Gilliam's understated drama, in which he played a fragile homeless man traumatised by his wife's murder, who forms a coincidental connection with the DJ (Jeff Bridges) who indirectly caused her death. It's a subtle and emotional turn that rewards multiple viewings, and an early scene with offbeat love interest Amanda Plummer is a reminder of what a skilled silent comedian Williams was.
5. Aladdin (1992)
Williams's turn as Aladdin's Genie upped the ante for vocal performances in animated films, proving that actors illuminate a character with just a voice. For many film fans, this will have been their first exposure to Williams, and thanks to this force-of-nature performance they wouldn't forget him in a hurry. 6. Mrs Doubtfire (1993)
6. Mrs Doubtfire (1993)
When divorce pulls Williams's Daniel Hillard away from his family, he takes drastic action in order to spend time with his children. It needed a special kind of actor to sell the role of Scottish battle axe Euphegenia Doubtfire, and Williams was the only star imaginable in the early '90s.
Doubtfire
made such an impression on pop culture, it was affectionately lampooned by David Cross in the second season of
Arrested Development
.
7. Jumanji (1995)
A family adventure with a sky-high concept, Jumanji unleashed state-of-the-art CGI effects on cinemagoers in 1995. Williams led the cast as Alan Parrish, a man released from the titular board game after 26 years. He was crucial to the film's success - amid all that technical wizardry, Williams lent the film heart and soul, keeping the audience invested while the jaw-dropping spectacle unfolded.
8. Good Will Hunting (1997)
Striking an immaculate balance between sly humor and open-hearted tenderness, Williams's turn as Will Hunting's psychiatrist and mentor Sean Maguire was the one that finally won him an Oscar after three prior nominations. There are too many moving, impeccably performed moments here to pick just one: Sean gently taking Will to task on a park bench; his intellectual one-upmanship with Stellan Skarsgård's professor, and of course the iconic "It's not your fault" breakthrough.
9. One Hour Photo (2002)
Having become best known for a variety of comforting roles, Willliams took something of a left turn in the early noughties, choosing projects that really capitalised on his capacity for darkness. In psychological thriller One Hour Photo, he plays a lonely photo technician who develops a dangerous obsession with a local family who regularly come to him to develop their pictures. Chilling though the character of Sy is, there's also real poignancy in his desperation to belong in a loving family.
10. World's Greatest Dad (2009)
Thinking about Williams's performance in this low-key indie now cuts deep due to the circumstances of his passing. This jet-black comedy saw him try to cover up his son's embarrassing death by penning a fake suicide note and becoming a minor celebrity. Williams's character Lance was a man tinged with sadness, and revisiting this film would be difficult now. It is, however, a strong reminder of how good an actor he was.
RELATED: Heartbreak All Over Hollywood In The Wake of Robin Williams' Death

More from Digital Spy:
Robin Williams dies: Hook's Rufio star pays tribute to 'magic' actor

Jonathan Ross leads Robin Williams tributes on Good Morning Britain

Robin Williams fans pay touching tribute at Good Will Hunting bench

Robin Williams dies: Conan O'Brien pays tribute during late show taping
Celebrity news, beauty, fashion advice, and fascinating features, delivered straight to your inbox!