Taylor Swift's 'Shake It Off' Video Deemed Racist
"It's inherently offensive and ultimately harmful."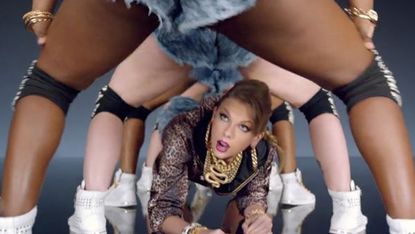 (Image credit: Archives)
To many, Taylor Swift is America's sweetheart, but that alone can't save her from landing in hot water. Yesterday, Swift debuted the video for her new song "Shake It Off," in which she showcases a slew of cultural identities in jest. In one scene, Swift, decked out in heavy gold jewelry and cut-off denim hot pants, twerks with a group of black and white women. It's lighthearted, but as recent videos from Miley Cyrus and Lily Allen have taught us, is walking a very fine line.
Rapper Earl Sweatshirt took to Twitter to call Swift out, even going so far as to say she's masking prejudice with mock appreciation. He tweeted the following:
haven't watched the taylor swift video and I don't need to watch it to tell you that it's inherently offensive and ultimately harmfulAugust 19, 2014
See more
perpetuating black stereotypes to the same demographic of white girls who hide their prejudice by proclaiming their love of the cultureAugust 19, 2014
See more
for instance, those of you who are afraid of black people but love that in 2014 it's ok for you to be trill or twerk or say niggaAugust 19, 2014
See more
Earl Sweatshirt isn't the only one taking to Twitter to voice frustration, so it'll be interesting to see how Swift reacts to the criticism, especially in light of her forthcoming performance at the MTV Video Music Awards on Sunday night. We'll just have to wait and see.
"Shake It Off" is available on iTunes and her new album, 1989, drops October 27.
Related Links:
Taylor Swift's Rise to America's Sweetheart
Celebrity news, beauty, fashion advice, and fascinating features, delivered straight to your inbox!