What's On: Taylor Swift
The chart-topping songstress of hits such as "22" and "We Are Never Getting Back Together" shares her favorite workouts, her penchant for room service, and the words she lives by.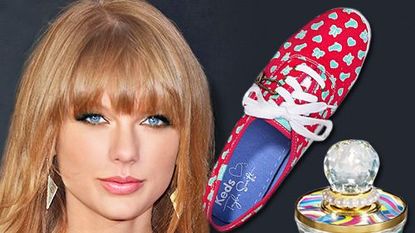 (Image credit: Unknown)
What's on your...
VANITY: Red lipsticks and lip stains; daily contact lenses; face wash; moisturizer; cat treats; and my new fragrance, Taylor by Taylor Swift.
FEET: Red Keds and red polish.
MIND: Why the remote in my hotel room won't work.
NIGHTSTAND: My glasses.
WORKOUT PLAN: Running, hiking, jumping on my trampoline, crunches.
PLAYLIST: Music from the '40s, '50s, and '60s, like "Just One Look" by Doris Troy and "Wouldn't It Be Nice" by The Beach Boys.
LIST OF CHARITIES YOU SUPPORT: Anything having to do with school funding for music programs, childhood cancer, or disaster relief.
WALLS OF YOUR FAVORITE ROOM IN YOUR HOUSE: All of my walls are covered with framed pictures of my friends.
TWITTER FEED: Updates on my cat and career; the occasional cryptic lyrical message; and random, lighthearted observations.
WISH LIST: Contentment, a mint-green bike, and the ingredients to make Shirley Temples.
SHIT LIST: Exes.
GO-TO MENU: Japanese food, Chinese food, and room service.
FANTASY ITINERARY: A marathon of previously unwatched Law & Order: SVU episodes.
BUCKET LIST: Get a college degree… somehow, someway.
PINTEREST BOARD: Recipes, workouts, decorating ideas. And, OK, lots of "believe in yourself" quotes.
DESKTOP SCREEN SAVER: A picture of my friends Lena, Ashley, and Jessica with my band and dancers in the tour huddle before one of my New York shows. My brother took it.
ONLINE BOOKMARKS MENU: ModCloth.com, RalphLauren.com, Anthropologie.com, BetseyJohnson.com—nothing celebrity or gossip related.
REFRIGERATOR DOOR: Magnets of places I've been, and there's a Grammy nominee medal hanging on it—because, why not?!
TOP-FIVE-FEARS LIST: 1. Sea urchins 2. Googling myself 3. Earwigs 4. Cynics 5. Getting arrested
IDEAL DINNER-PARTY GUEST LIST: Will Ferrell, Conan O'Brien, and Ina Garten (she could help me cook, too!).
BIGGEST-REGRETS LIST: Every one of my regrets has produced a song I'm proud of.
QUOTES-TO-LIVE-BY LIST: "Why don't you tell me that 'if the girl had been worth having she'd have waited for you'? No, sir, the girl really worth having won't wait for anybody." —F. Scott Fitzgerald, This Side of Paradise
HEADSTONE, IF YOU COULD WRITE IT: "Love is a ruthless game unless you play it good and right." @taylorswift13
Celebrity news, beauty, fashion advice, and fascinating features, delivered straight to your inbox!