Justin Bieber Is In Trouble With The Law (Again)
Justin Bieber Is In Trouble With The Law (Again)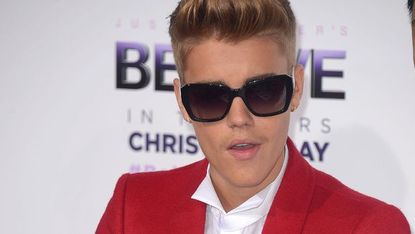 (Image credit: ARCHIVES)
Justin Bieber has been charged with dangerous driving and assault. The 20-year-old 'I Want It All' singer was arrested after an incident in his hometown of Ontario. Bieber is alleged to have been involved in an altercation with another driver following a crash between his quad bike and the other person's minivan. The incident is said to have taken place before 3pm last Friday (August 29). According to a police statement, "after colliding, the driver of the all terrain vehicle and an occupant of the minivan engaged in a physical altercation". Bieber is now due to appear in court on September 29.
A spokesperson for the singer said: "Justin Bieber and Selena Gomez's peaceful retreat in Stratford this weekend was unfortunately disrupted by the unwelcome presence of paparazzi."This has regrettably resulted in charges of dangerous driving and assault. Mr Bieber and Ms Gomez have fully cooperated in the police investigation. We are hopeful that this matter will be quickly resolved."
Last week, Bieber accused photographers of acting "recklessly" following an incident in which his red Ferrari was hit by a Prius driven by a paparazzo in West Hollywood. Bieber wrote on Twitter: "There should be laws against what I just experienced. We should have learned from the death of Princess Diana...I don't have a problem with Paparazzi but when they act recklessly they put us all in danger."
Earlier today, it was revealed that Bieber and Cody Simpson will
release a collaborative album this winter
.
Related:




Egged On: Justin Bieber's House Raided, Friend Arrested, Friend Released

The Justin Bieber, Orlando Bloom, and Miranda Kerr Love Triangle Is Real
Every Time Justin Bieber Wore Harem Pants in 2013
Exclusive Justin Bieber Photos