10 Fancy Dinner Party Hacks
Elegance on a budget.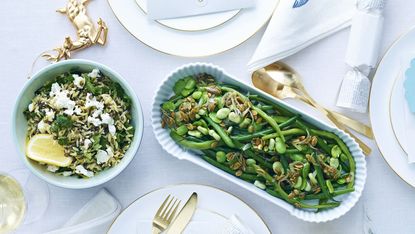 (Image credit: Archive)
Marie Claire Newsletter
Celebrity news, beauty, fashion advice, and fascinating features, delivered straight to your inbox!
Thank you for signing up to Marie Claire. You will receive a verification email shortly.
There was a problem. Please refresh the page and try again.
You have friends. You have an appetite. Why not throw a dinner party? The good news is, you don't have to spend a boatload of money to pull off an enviable feast. Here are ten easy ways toadd magic and elegance to your next gathering that take minimal time and funds.
1. Make It VIP Only
In other words, limit your guest list. Prepping for fewer people means you can put more time and effort into the details (and spend less money on groceries). Four to eight tends to work best for dinner parties in smaller spaces, but anything up to 20 can still feel intimate. If you want to spice things up or show off your culinary prowess, host complete strangers through dinner party networking sites like EatWith or Feastly.
2. Recruit Live Music
You usually complain about your musician neighbors' late-night jam sessions, but you can put their talents to use. Enlist the building's resident DJ to spin during cocktail hour, or ask the folk rocker down the hall to play a short set between dinner and dessert. Having live music is an easy way to make a dinner party feel like a real event.
3. Get Creative with Your Location
If the weather's nice and you have a team willing to help you carry food and supplies, take cues from Outstanding in the Field and host your dinner party outdoors. Set up shop at a nearby park, community garden, or rooftop if you don't have your own backyard. But your place can be just as easily transformed into an exotic locale with a few simple touches. Colorful paper lanterns, metallic twinkle lights, or sheer scarves draped over lamps are cheap finds that instantly make a space feel more magical.
4. Rethink "Dinner"
Skip the traditional set-up and go for an activity-based meal like fondue, raclette, or tacos. DIY meals require less time-sensitive prep on your end and encourage people to interact – just put out the ingredients, give a mini tutorial if it's something unique, and let people nosh. If you decide to go the traditional route, serve it family or buffet style. Veggie-based dishes are the most cost effective, as meat and fish tend to be more pricey. And while a fondue set or raclette maker may be expensive up front, the amount of use you'll get out of them will more than make up for it.
5. Show off Your Menu
You know those giant chalkboards at restaurants that display the day's specials? Make one. Even if you're just serving a simple pasta dish, this is your chance to show off the gluten-free, organic noodles and farmers market tomatoes you used to make your Nonna's famous marinara. You can also include a rough schedule for the night (for example, "Cocktail hour, 6 p.m.," "Acoustic Guitar by Matt Down the Hall, 8:30 p.m."), to ramp up excitement. You don't need a fancy chalkboard to do this, either; just get some brown butcher paper or colored wrapping paper, pens or chalk, and start jotting things down. You can use that same paper as a table runner and put hors d'oeuvres plates down with descriptions written beside them. These make great conversation starters, too.
6. Assign Seating
The beauty of the dinner party is that it brings your favorite people together. Even if everyone knows each other, assigned seating gives guests a chance to catch up with someone they might not know as well. Separate couples and best friends so they talk to new people. As the host, change your seat mid-dinner so you fit in some face time with all your guests.
7. Make the Table Pop
A Pinterest-worthy tabletop goes a long way. No need to go out and buy matching tableware; eclectic plates and linens can look great when grounded by a color theme. Complete the tableau with fresh flowers (divvy up a large bouquet into a few smaller bundles), votive candles, and twinkle lights. When you spread them out down the length of the table, it makes the spread look even longer. Succulents are another beautiful, cost-effective option: They'll last through several dinner parties if you care for them properly, or can be used as place card holders that guests take home.
8. Dress up the Drinks
There's nothing wrong with setting out bottles and cans of your favorite soft drinks, but it's always nice to have a couple of pre-made, pretty drink options on tap, too. Brew up a pitcher of fresh sweet tea or hand-squeezed lemonade. Make sure your garnish game is on point with colorful additions like frozen berry skewers or citrus sliver ice cubes. After-dinner coffee and tea service is a great way to wind things down at the end of the night.
9. Enlist a Wingman
To make guests feel welcome right off the bat, make sure there's someone to greet them at the door. If you're off manning the kitchen, ask your most social friend to come a little early to buzz guests in, take their coats, make introductions and show them where the drinks and apps are.
10. Don't Do Dishes
Or at least decrease the sink load. Ending the night elbows-deep in dishwater is the opposite of fancy, so it's completely acceptable to opt for disposable, ecofriendly dinnerware you can compost. Palm leaf bowls and plates and birch wood cutlery are elegant, streamlined options. And while real glassware is preferable to disposable (this is a classy dinner party, after all), limiting guests to one glass each for the night is a good way to cut down on the washing you'll have to do later.
Celebrity news, beauty, fashion advice, and fascinating features, delivered straight to your inbox!