Lily James Responds to Those Waist-Shrinking Rumors from 'Cinderella'
The star reacts to the criticism surrounding her figure in the live-action film.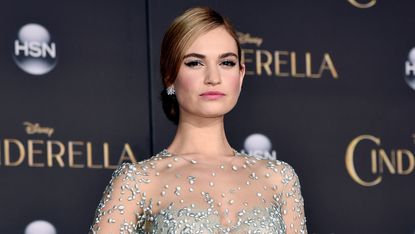 (Image credit: Archives)
The release of Disney's live action Cinderella has been surrounded by rumors that the fairytale princess's waist is so teeny-tiny that it must have been digitally altered. Disney denied the allegations, but a lot of people on the Internet weren't convinced because, well, it's small.
But now Lily James, the actress playing Cinderella, has spoken out about the CGI dust-up. In an interview with The Los Angeles Times, the star assured everyone that there was no photoshopping involved. "I naturally have a really small waist," she told the Times. "The skirt's big and the corset pulls me in, and that's the point. That's the shape [costume designer] Sandy Powell created."
James also seemed to believe that the airbrushing rumors are a form of skinny-shaming.
"I think it's all very hypocritical, and they contradict themselves, and they're drawing more attention to it," she told the Times. "I think all that stuff's so negative, and you've got to let it wash over your head. I'm so healthy. I've got hips and boobs and a bum and a small waist." You tell them.
You should also check out:
Lily James Gives Us 3 Real-Girl Denim Lessons
Is the New 'Cinderella' Movie Feminist? The Trailer Sure Makes It Look That Way
10 Times Lily James Was Cinderella in Real Life
Marie Claire email subscribers get intel on fashion and beauty trends, hot-off-the-press celebrity news, and more. Sign up here.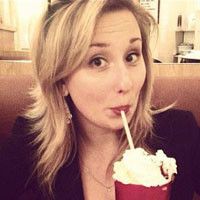 My writing has regularly appeared in The New York Times, The Paris Review, Salon, VICE, Guernica, The New York Observer, BuzzFeed, Cosmopolitan, Seventeen, Esquire, Elle, Harper's Bazaar, and many more publications.

I was previously the Senior News Editor at Best Life Online and the Viral Content Editor in the Newsroom of Hearst Digital Media. My portfolio consists of a vast and diverse body of work that includes personal essays, lifestyle articles, breaking news posts, and viral content. My areas of expertise, however, are Russia, sex and relationships, and mental wellness.