George Clooney Gave All His Best Friends Briefcases with $1 Million in Cash
His life is literally like a mob film.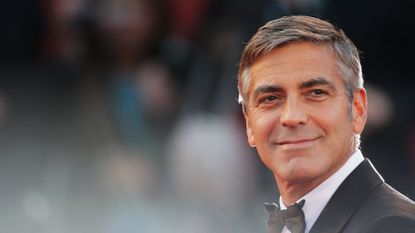 (Image credit: Getty Images)
In the event that you aren't already super bitter and resentful about the fact that you still aren't best friends with George and Amal Clooney, listen up, because apparently George is the kind of person who casually gives his friends mass amounts of money.
According to Cindy Crawford's husband Rande Gerber (a close friend of George's), the actor once gave his 14 closest friends a cool mill each. "There's a group of guys that we call 'The Boys,'" Gerber said. "George had called me and The Boys and said, 'Hey, mark September 27, 2013 on your calendar. Everyone's going to come to my house for dinner.'"
This is already a wonderful story, but do continue, Mr. Gerber.
"George begins to say, 'Listen, I want you guys to know how much you've meant to me and how much you mean to me in my life. I came to L.A., I slept on your couch. I'm so fortunate in my life to have all of you and I couldn't be where I am today without all of you. So, it was really important to me that while we're still all here together, that I give back. So I want you all to open your suitcases.'"
[Note: there were mysterious suitcases at everyone's seat. This is literally like the plot of Oceans Eleven IRL.]
The suitcases had $1 million in $20 bills. "Every one of us—14 of us—got a million dollars. Every single one of us. We're in shock. Like, what is this? He goes, 'I know we've all been through some hard times, some of you are still going through it. You don't have to worry about your kids, you don't have to worry about, you know, school, you don't have to worry about paying your mortgage.' I mean these are guys that took care of George and now he's giving it all back. And George said: 'Not only that, I have paid everyone's taxes so this million dollars is yours.'
Gerber donated his money to charity, and explained: "This is who George is. That was September 27th, 2013. Now September 27th, 2014, he marries Amal. Now that's good karma right there."
Literally crying—both from this story, and from the fact that I'm not friends with George Clooney.
RELATED STORIES
George Clooney Says Amal Has Been Harassed
Mehera Bonner is a celebrity and entertainment news writer who enjoys Bravo and Antiques Roadshow with equal enthusiasm. She was previously entertainment editor at Marie Claire and has covered pop culture for over a decade.