Miley Cyrus Is Just Trying to Save the World
Sure she's provocative—but that's part of her power. Marie Claire's September cover star gets candid about non-conformity, sexuality, and the kinds of role models we actually need.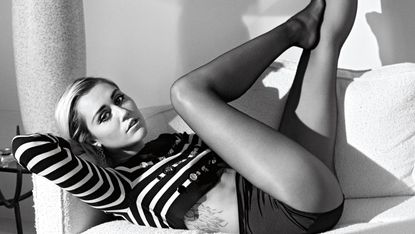 (Image credit: Mark Seliger)
A homemade "good vibes only" banner provides a cheery welcome when entering Miley Cyrus' recording studio, a cozy space adjacent to her home in L.A.'s San Fernando Valley, furnished with an inviting couch, cluttered work desk, and hanging light fixtures that resemble clouds. The coffee table boasts photo books, an ashtray, doodle pads, a bottle of Cîroc, stickers, Polaroids, a sculpture of a brain. Her microphone is wrapped in rainbow tape. A blow-up plastic alien doll leans in the corner.
Cyrus, 22, is proud of her unpretentious, low-tech studio. A country girl at heart, she is not a big believer in conspicuous consumption or unnecessary excess—at least not outside the emotional or theatrical realm. "These big fucking studios other people put in?" she says of some of her colleagues. "You don't need that stuff. All you need is a microphone and a computer."
She feels the same pull toward simplicity in the house she is remodeling a short drive away, where she'll have acreage for the rescue horses she plans to add to her menagerie, which includes four dogs, a pair of cats, and her pig, Pig. "My contractors keep trying to sell me all this shit, and I'm like, I'm not going to build a fucking house that's got an outdoor shower," Cyrus says, as she walks from her studio to her main house. "I don't need fancy floors my dogs will ruin."
Cyrus, who says her taste runs toward the "janky," is pointedly not about the Benjamins. "People in this industry think, I just gotta keep getting more money, and I'm like, What are you getting more money for? You probably couldn't even spend it all in this lifetime. People get more famous, so that they can make their brand more famous, so that they can sell more shit, so that they can make more money. It's a never-ending cycle. Getting more money, having more hits, being the lead in the movie—those things might stimulate you, but they don't make you happy. I've experienced it all already, and I'm telling you firsthand, it doesn't."
As she opens her front door, Cyrus' dogs circle around her ankles, barking excitedly. Like her studio, her home is hospitable and unaffected—there is nothing to suggest global superstar celebrity. There is, however, a 5-foot-tall embellished bong and a dildo covered in pink and red puffballs, art projects of Cyrus, though, she emphasizes, "The bong works."
To read the rest of Cyrus' candid cover interview, pick up the September issue of Marie Claire on newsstands August 18. Here, a few highlights:
On Taylor Swift's "Bad Blood" video: "I don't get the violence revenge thing. That's supposed to be a good example? And I'm a bad role model because I'm running around with my titties out? I'm not sure how titties are worse than guns."
On the reason she created the Happy Hippie Foundation: "A lot of us are born into some shit, you know what I mean? Lately, I've been talking a lot about my being gender-fluid and gender-neutral. And some people snarl at that. They want to judge me. People need more conventional role models, I guess. But I just don't care to be that person."
On sexism and her sexuality: "There is so much sexism, ageism, you name it. Kendrick Lamar sings about LSD and he's cool. I do it and I'm a druggie whore."
On being herself: "I don't really stress too much about being out there. There's nothing left to catch me doing. You want to hack my e-mail so you can find my nude pictures? I'll just fucking put them up."
On her body: "I feel like a 15-year-old boy trapped in the body of a 22-year-old girl."
Read the full interview and see all the photos in the September issue of Marie Claire, on newsstands August 18. And for a little behind-the-scenes action to hold you over, see Cyrus at her cover shoot here:
Don't forget to watch Cyrus kill it as the MTV Video Music Awards host live on Sunday, August 30 at 9 p.m. Because when she's in charge, you know a good time's guaranteed.
Celebrity news, beauty, fashion advice, and fascinating features, delivered straight to your inbox!