Here's Why the Internet Is Upset Over Kendall Jenner's Latest Ad Campaign
Yikes.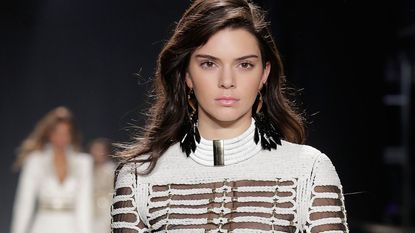 (Image credit: Getty Images)
After serving as the face for brands like Balmain and Estee Lauder, genetic jackpot winner Kendall Jenner has been booked for yet another major ad campaign. This time, she's been asked to front Mango's 2016 spring collection—and a very vocal portion of the Internet is not happy about it.
Jenner took to Instagram to share a video of the David Sims-photographed shoot on Wednesday:
So what has the Twitterverse taken issue with? Certainly not her adorable dance moves, nor her next-level hair-blowing-in-the-wind action. Instead, many are none too pleased about the Spanish fashion house's choice in hiring a white model to promote an African savanna-inspired collection called "Tribal Spirit."
So @Mango cast kendall jenner in an African themed collection called "Tribal Spirit". Good to see fashion houses are still racist in 2016.January 15, 2016
See more
Kendall Jenner is working with clothing brand Mango and their line is called "tribal spirit" I can't wait to see the cultural appropriation.January 15, 2016
See more
Mango's new campaign Tribal Spirit is inspired by the African Savannah & Kendall Jenner, a white girl, is the model??? Why????????January 15, 2016
See more
Wow. I bet the WoC in modeling are thrilled Kendall Jenner will Star in Mango's 'Tribal Spirit' https://t.co/tjOk9YCITN (from @wwd)January 13, 2016
See more
Kendall Jenner has been chosen as the face of Mango's Africa-themed campaign: https://t.co/GDduATxsYBJanuary 15, 2016
See more
Trust in @Mango for fashionable cultural appropriation. #shameJanuary 15, 2016
See more
For the most part, the online backlash has been directly aimed at Mango and not at Jenner herself; but regardless of the criticism, Mango seems confident they made the right decision in choosing to work with the Keeping Up With the Kardashians star.
"We thought that she was the best model to embody this trend," Mango vice president Daniel López told Women's Wear Daily. "And obviously the upside with that is that, as a model, she's very professional. She works fantastically. As a celebrity, she has huge repercussions in the market and among her followers."
Follow Marie Claire on Instagram for the latest celeb news, pretty pics, funny stuff, and an insider POV.