Elizabeth Olsen Was Almost Asked to Play Michelle Tanner on 'Fuller House'
Elizabeth Olsen Was Almost Asked to Play Michelle Tanner on 'Fuller House'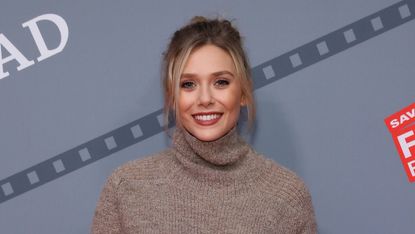 (Image credit: Getty Images)
Possibly because they've been too busy designing cute mules and loafers (opens in new tab) (or just wanted to break our hearts), Mary-Kate and Ashley Olsen turned down the offer to reprise the role of Michelle Tanner on Netflix's highly-anticipated Full House reboot, Fuller House.
"Personally, I was very disappointed that Mary-Kate or Ashley didn't want to come and join us," show creator Jeff Franklin told E! News (opens in new tab), echoing our collective sadness. "I understand why and no hard feelings, but I really was hoping to get that picture."
So that's when Plan B came in: asking MK & A's lookalike little sis, Elizabeth, to play Michelle.
"In our moment of disappointment, John Stamos and I talked about what to do and we thought for a moment, what if?" Franklin recalled. "We've known Elizabeth since she was a little girl."
Franklin reveals he gave a call—"not an offer"—to Elizabeth's agent to gauge interest, but after careful consideration, both parties decided not to pursue the opportunity. "I didn't know if it was a good idea or a bad idea" he said. "And I thought it through, and it was in my head, so I thought I would just see if it was even worth thinking about. It was not really a good idea. It wasn't."
Plus, Franklin is holding out hope he'll be hearing a "You got it, dude" from the Olsen twins come second season.
"I am still hopeful that Mary-Kate or Ashley or both of them will come back and be a part of it, even if it's just for an hour. We miss that. Everybody does feel that hole in the family," he admitted. "But it's like, all family reunions, there's always somebody that doesn't show up. But hopefully next time around, we'll have them back."
Mary-Kate and Ashley, will you please come back? There, we said it.
Follow Marie Claire on Instagram (opens in new tab) for the latest celeb news, pretty pics, funny stuff, and an insider POV.