Drew's the Boss
Drew Barrymore runs a whole lot more than a stellar career in Hollywood. She's at the helm of a burgeoning beauty empire, a production company, a wine business, and a bestselling memoir. Welcome to her next act.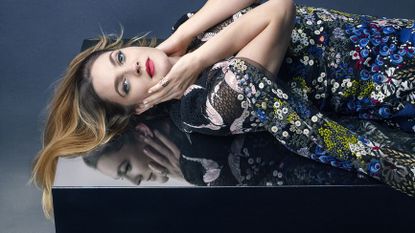 (Image credit: David Slijper)
Marie Claire Newsletter
Celebrity news, beauty, fashion advice, and fascinating features, delivered straight to your inbox!
Thank you for signing up to Marie Claire. You will receive a verification email shortly.
There was a problem. Please refresh the page and try again.
Drew and I both like to say we won the sister-in-law jackpot. From the night my brother, Willie Kopelman, introduced us at a quiet dinner in Santa Monica, California, in 2011, we were add-water-N-stir insta-pals. Our wine-fueled cackles have taken us late into the night, and we've made breakfast for our kids with eye bags at 6 a.m. And at any time in between hours of coffee and cocktails, she is a pure joy—no prima-donna horsesh*t, no entourages, no vanity.
With last fall's memoir, Wildflower, Barrymore has cemented herself as not just an award-winning actress, but also an accomplished writer. Not to mention entrepreneur: Her production company, Flower Films, has made more than $1 billion at the box office and released the recent How to Be Single; her makeup and eyewear line, Flower, is launching an e-commerce site this year and may expand abroad; and sommeliers across the country have added Barrymore Wines to their lists. We plopped on her bedroom carpet while our kids watched The Little Mermaid downstairs, and got to it.
Here, a few highlights from her interview, in our April issue on newsstands March 22:
On fame and celebrity friendship: "I've never felt comfortable with this, sort of, camaraderie of famous people. I've known Poo Poo [Cameron Diaz] since I was 14 years old. We just happened to know each other before her career started, and I was working in a coffeehouse trying to refigure out my life. So in a weird way, it doesn't even count with us."
On making an effort: "I went to parent's night, and I wore some lipstick and concealer, and I thought the people at school looked at me kind of differently. I normally come with acne, and Ugg boots, and I thought they were like, 'Oh that's nice, she made a little bit of an effort.'"
Featured music: YesYou — "Through Your Eyes" (ft. La Mar); courtesy of Audiopaxx
Celebrity news, beauty, fashion advice, and fascinating features, delivered straight to your inbox!