Gigi Hadid and Blake Lively Sat Down for an Intimate Conversation About Body Image
"Three years from now you will look back at a picture from this time period and be like: 'Wow, I was so hot.'"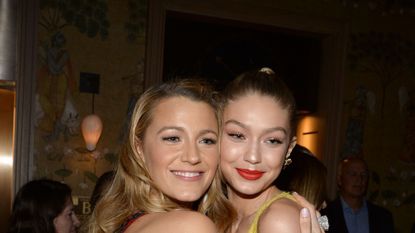 (Image credit: Michael Simon/startraksphoto)
Blake Lively interviewed Gigi Hadid for Harper Bazaar's May 2018 issue and the result was a brutally honest conversation about beauty standards and body image in Hollywood.
During the interview, Blake asked Gigi what advice she had received from her mother, who was also a model, when she started in the industry and Gigi's answer is a testament to how far she's come so quickly in her career.
"She always said that with any photographer, no matter who it is, you can speak up if you're uncomfortable," Gigi said. "And I've done that. Obviously, when I was younger, there were times where, you know, things happen quickly on the set. Someone will all of a sudden say, 'Oh, you wouldn't mind…' It's about learning your power and knowing when to protect yourself."

The conversation quickly turned to body image and the unrealistic beauty standards imposed by the film and modeling industries—something Blake and Gigi are all too familiar with.
Gigi admitted that even her fans have criticized her body in recent years as she's lost weight. She also defended her current body and opened up once again about her Hashimoto's diagnosis.
"Nowadays, people are quick to say, 'I used to love Gigi's body, and now she just gave in.' But I'm not skinny because I gave in to the industry. When I had a more athletic figure, I was proud of my body because I was an amazing volleyball player and horseback rider," she explained. "But after discovering that I have Hashimoto's [an autoimmune disease], I needed to eat healthy and work out. It was weird as a teenager, dealing with this when all of my friends could eat McDonald's and it wouldn't affect them."

When Blake pointed out that Gigi is in the unique position of having been called "too big" and "too skinny," Gigi admitted that, if she had her way, she'd love to have her old body back—but that she accepts that's not in the cards since she has to put her health first.
"If I could choose, I would have my ass back and I would have the tits I had a few years ago. But, honestly, we can't look back with regret. I loved my body then, and I love my body now," she said. "Whoever is reading this, I want you to realize that three years from now you will look back at a picture from this time period and be like: 'Wow, I was so hot. Why did I feel so bad about myself because of some stupid thing someone said?'"

Blake agreed wholeheartedly and even admitted to being guilty of feeling relieved to know her images would be touched up after photo shoots, which she acknowledges contributes to the problem of unrealistic beauty standards.
"It's so important for young people not to compare themselves with what they see online," Blake said. "It's our job as actors and/or models to be in shape. We have access to gyms and trainers and healthy food. And then on top of that, 99.9 percent of the time the images are Photoshopped. I'm guilty myself of being at a photo shoot and saying, 'That looks terrible on me.' And they're like, 'We'll fix it.' And you're so relieved."
Kayleigh Roberts is a freelance writer and editor with more than 10 years of professional experience. Her byline has appeared in Marie Claire, Cosmopolitan, ELLE, Harper's Bazaar, The Atlantic, Allure, Entertainment Weekly, MTV, Bustle, Refinery29, Girls' Life Magazine, Just Jared, and Tiger Beat, among other publications. She's a graduate of the Medill School of Journalism at Northwestern University.