Rosario Dawson Arrested While Protesting in a Bernie Sanders Jacket
The actress has been a vocal opponent of Citizens United.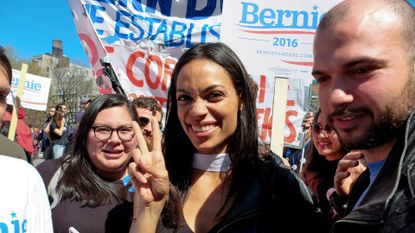 (Image credit: Marie Claire)
Rosario Dawson has come out as one of the biggest celebrity supporters of Senator Bernie Sanders' campaign for the presidency and the actress has clearly committed to Sanders' message against corporate interests swaying elections. On Friday Dawson was arrested for protesting in front of the U.S. Capitol building in Washington D.C., The Guardian (opens in new tab) reports.
She was even wearing a jacket with Sanders' face and name on the back.
If you're curious what jacket @RosarioDawson is sporting at #DemocracySpring pic.twitter.com/5bO38UPlEQApril 15, 2016
See more
Dawson was protesting alongside Democracy Spring, a group dedicated to overturning the controversial Citizens United Supreme Court ruling which allows big money to strongly influence politics.
Yes, that's @rosariodawson marching at #DemocracySpring with organizer @kai_newkirk (sporting TYT shirt!). #Hero pic.twitter.com/fvyhYntLdvApril 15, 2016
See more
Bringing political power back to the people: what you need to know about #DemocracySpring. > https://t.co/iu13WnHC4v pic.twitter.com/NWPdLapskcApril 14, 2016
See more
Upon being released, Dawson explained to The Guardian that the police were very cooperative with the protesters and warned Dawson several times before arresting her, but she felt she had to stand her ground: "I wanted personally to be in solidarity with the other folks who put themselves on the line and really just to bring attention to this because I think that's just vitally important." She later added, "I hope that officers across the nation can take heed of that and recognise that the peaceful protests that are going around the nation should also be treated in the same way as we are being treated today."