Gigi Hadid on the 3 Rs: RuPaul, Robots, and Rihanna
Gigi Hadid on the 3 Rs: RuPaul, Robots, and Rihanna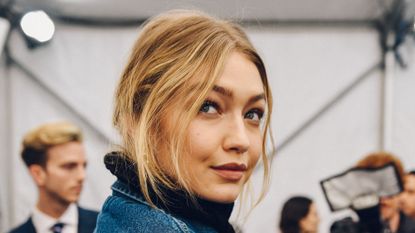 (Image credit: Getty Images)
Gigi Hadid is a supermodel—that's a fact. But the recently-turned-21-year-old, despite being one of the biggest names out there right now, is also—perhaps surprisingly—sweet and charming when I greet her on the terrace at the Gramercy Park Hotel, where she's representing Evian as its newest spokeswoman. From two feet away, she spots my Lego earrings—"I love those!" she exclaims in a low, slightly raspy voice before launching into a sincere request for me to watch the Lego documentary if I haven't already. (I haven't.)
Sitting next to her, it's easy to understand why she's in high demand. She's gorgeous, sure, but there's also a sense of calm and maturity beneath the surface. She's refreshing. In a sea of pretty faces, Hadid knows there's more to being It than just being nice to look at.
Here, she talks everything from bucket lists to living young—and, of course, Rihanna.
Marie Claire: The slogan for your Evian campaign is "Live Young." What does that mean to you?
Gigi Hadid: I've always looked at people like Carine Roitfeld, Donatella Versace, DVF...people who when you walk on a set you feel like they still have so much excitement for what they're doing every day and they just have so much youth even though they've been doing it for so long. I feel like that's how I connect to it. Every day just working to keep a young spirit—because even when you're young that's hard to do, because you get so caught up in things. I just think it's so important to make an effort every day to have a young spirit. Then when you get older, you always kind of keep that.
MC: And as far as living young on the inside but also on the outside, do you have any beauty rituals to keep you looking fresh every day?
GH: I mean honestly, like, my mom always said the most important thing is to stay hydrated. My mom wasn't really into using too many products or us wearing too much makeup, so the one thing that I always grew up with—as an athlete and even into modeling—was that staying hydrated is so important. And having Evian with me on set has been such a big part of keeping up my energy and staying fresh, with good skin and everything else. I mean, if you're not hydrated, nothing is good—your skin isn't, your workout's not as good. It's just so important.
MC: You were recently on RuPaul's Drag Race. Was there anything you took away from that experience?
GH: I'm such a big fan of RuPaul and of the drag community. I think as performers they're so brilliant—they're comedians and actors and then obviously incredible with their craft of clothes and doing makeup. So, for me it was less about "learning", but I was more there to just...observe. I took it as a performance piece, like literally just going there to watch someone do their craft. It was really cool. It's an art, what they do. It's amazing.
MC: We talked about staying hydrated, but are there any products that you tend to use a lot?
GH: I love Chanel Hydra Beauty Serum, just because, like I said, having moisturized skin is really important. I always have the Evian facial spray with me when traveling. Lips-wise, there's a really good Christian Dior rose balm.
1. Evian Facial Water Spray, $12.50; sephora.com
2. Dior Crème de Rose Smoothing Plumping Lip Balm, $28; sephora.com
3. Chanel Hydra Beauty Serum, $110; neimanmarcus.com
MC: You looked gorgeous at the Met Gala. How did you meld the theme (Manus x Machina) with your style?
GH: I actually got to design my dress with the Tommy Hilfiger group, and we just finished designing my collaboration with them, so I'm really close with them. It was more like I designed it, and I was so proud to wear it because I wanted to celebrate them and how hard they've worked. But also my view on it was kind of, If you put a robot in a gown, what would that look like? And so I wanted to do sort of an inside-out corset, making it look like that was the metallic part and then kind of the dress came off of that in a way. Same with the hair, I just kind of went with those sci-fi movies where you see the robot come to life as a human. So I did the slicked hair and I wanted my makeup to be really neutral because when there's a robot-human you're not going to think Full Glam, so that's why I kept it low-key with really neutral tones.
MC: Obviously that was a huge event, but what's the next thing that you're excited about that's coming up?
GH: Um...
MC: [Laughs] You're like "let me consult my calendar..."
GH: No, no! [Laughs] I mean, there are so many things I'm not allowed to talk about yet. I'm really excited to see my Evian campaign on billboards because it's been so long since I actually shot it and I've always been such a big fan of this campaign. My agent Luiz came to me trying to explain what it was and I was like I already know, I've seen it, I love it, and I was really excited to do it. So that's what I'm excited for. That I can talk about. [Laughs]
MC: Speaking of getting excited for something, what music gets you ready for a girls' night out?
GH: Right now, I'm really into Rihanna, the whole album. I literally play it all the way through. I love J.Lo's new song ["Ain't Your Mama"], I love "Girls" by The 1975. Um, what else...I always have my go-to songs that of course now that you're asking I'm blanking on. It's been a lot of Rihanna recently—and Beyoncé. Beyoncé's new songs are so good. Still not over her last one before Lemonade but now, we have two! We have a whole album. It's so good.
MC: We're blessed. Is there anything you haven't done yet that's definitely on your bucket list?
GH: It's hard because of course there are things that I'm inspired by or want to do, but it's also hard to...like if you had told me I'd be doing all these things now—an Evian campaign—a year ago, I wouldn't even know what to think. Sometimes things aren't a dream because you don't really think it's a possibility, you know? So my goal on a daily basis is just to go to work and be someone that people like to be around. I just want to work hard and be nice to people, and I feel like when you touch people in that way, on a more personal level, then they go to work the next day pushing for you. And that's when an opportunity comes that you wouldn't have even expected otherwise. So I feel like that's more what I do rather than having one thing in mind because actually, I'm *very* determined. I get tunnel vision, so I don't want to block other things out—I want to be open.
Follow Marie Claire on Facebook for the latest celeb news, beauty tips, fascinating reads, livestream video, and more.
Celebrity news, beauty, fashion advice, and fascinating features, delivered straight to your inbox!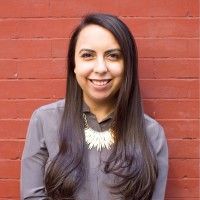 Samantha Leal is the Deputy Editor at Well+Good, where she spends most of her day thinking of new ideas across platforms, bringing on new writers, overseeing the day-to-day of the website, and working with the awesome team to produce the best stories and packages. Before W+G, she was the Senior Web Editor for Marie Claire and the Deputy Editor for Latina.com, with bylines all over the internet. Graduating from the Medill School of Journalism at Northwestern University with a minor in African history, she's written everything from travel guides to political op-eds to wine explainers (currently enrolled in the WSET program) to celebrity profiles. Find her online pretty much everywhere @samanthajoleal.