Everyone Chill Out: Gigi Hadid Confirms She and Zayn Malik Are Still Together
She likes staying in with her BOYFRIEND.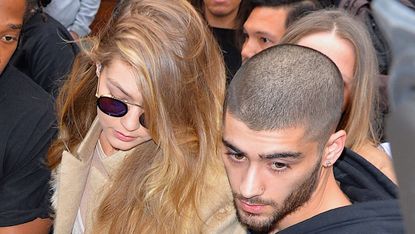 (Image credit: Getty Images)
What breakup?
We already had our doubts, and now Gigi Hadid has confirmed that she and Zayn Malik are still together, thank you very much. This weekend Elle.com sat down with the supermodel for an exclusive interview at Maybelline New York's Beauty Bash at L.A.'s Line Hotel where the model made a point to mention her boyfriend.
Though Hadid didn't address the breakup rumors directly, the 21-year-old went out of her way to mention Malik while describing her perfect night in: "Cook. Paint. Play with my dog. Hang out with my boyfriend. Watch movies. Just chill."
Clever, Gigi, clever! Now all you Gigi and Zayn stans can go dry your eyes, at least one power couple is still intact.
Read more about Hadid's biggest fears, beauty tips, and favorite John Mayer remix on Elle.com.