Wait...Are Nicki Minaj and Eminem DATING?
WHAT?!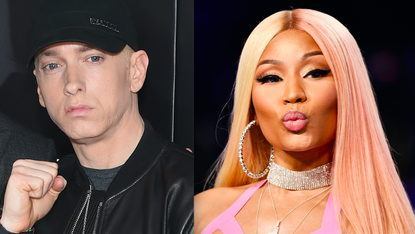 (Image credit: Getty Images)
Update, 5/26: Well, sorry to burst anyone's Nicki Minaj-Eminem-heart-shaped balloons, but it looks like the two artists are not dating. A source close to Minaj tells TMZ that she was joking (joking!) when she responded to that comment. So... That's that!
Original post, 5/25: Some WHAT news to kick off your Memorial Day weekend: Nicki Minaj and Eminem are maybe dating.
On Thursday, Minaj played some lines from her new track "Big Bank" with YG, 2 Chainz, and Big Sean on her Instagram. One of the lines (which she called out in the caption): "Told 'em I met Slim Shady, bag the Em/Once he go black, he'll be back again."
One of Minaj's fans asked in the comments, "Are you dating Eminem???" which the singer responded to with a simple, "yes," which doesn't really address the degree of OMG messaged with the three question marks. But fine!
Minaj reportedly broke up with Nas in January 2018 after seven months of dating. According to a source, the two parted ways because of their busy schedules, but "still remain friends." Nas and Minaj started dating after a year of celibacy post Meek Mill breakup. "I'm just chillin' right now. I'm celibate. I wanted to go a year without dating any man. I hate men," she told Ellen DeGeneres in May of last year. "I might make an exception to the rule for [Nas] 'cause he's so dope."
But anyway, back to the Eminem of it all: It's unclear whether Nicki is kidding (a line in a song doesn't mean anything of course, so the "yes" might not be a serious one). But she and Eminem have known each other for a while—Eminem appeared on Minaj's track "Roman's Revenge" in 2010.
Celebrity news, beauty, fashion advice, and fascinating features, delivered straight to your inbox!