Liam Hemsworth Reveals the *Very* Bizarre Question Jennifer Lawrence Asked Him
It has to do with kangaroos.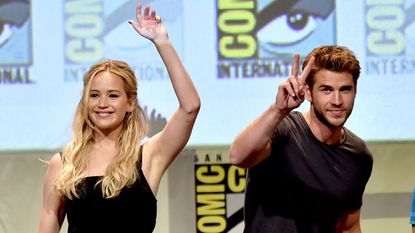 (Image credit: Getty)
After filming The Hunger Games together for years, Jennifer Lawrence and Liam Hemsworth have shared some hilarious anecdotes from their time on set together. And the latest revelation has to do with a very peculiar line of questioning from JLaw.
While on The Graham Norton Show on Thursday to promote his new film Independence Day: Resurgence, the Aussie actor recalled, "She often, right before a take, would turn to me and ask if I liked having sex with kangaroos. Anything along those lines."
Well, alright then.
Hemsworth added, "You never really know what's going to come out of her mouth!"
It's really no surprise that Lawrence would try to mess with and throw off her pal, but what is surprising is his cheeky reply. Hemsworth's Independence Day co-star Dwayne "The Rock" Johnson was also on the talk show and quickly asked: "And your response was…?"

"Absolutely!" Hemsworth answered, "That's what Australians do!"
Watch the full interview clip below: