The Empowering Reason the 'Ocean's 8' Cast Paused Filming for Anne Hathaway
"The girls were like 'What's wrong?'" Anne Hathaway explained.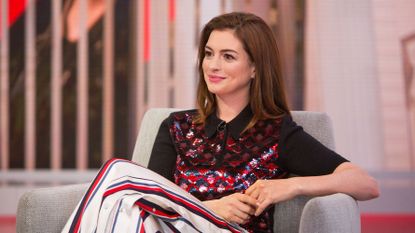 (Image credit: Getty Images)
The cast of Ocean's 8 can officially not get any cooler. During an interview on the Today show, Anne Hathaway revealed that the women were supportive of each other—so much so that her cast mates flat-out insisted they pause filming so the new mom could pump breast milk.
In the interview, Hathaway explained that she was initially worried about going into filming while she was still breast feeding her son. "I had that moment where I was like, 'Oh, is this going to be a positive environment to be able to do that in?'" she explained.
But as soon as she got to work, Hathaway learned that her cast—who includes the likes of Sandra Bullock, Mindy Kaling, Cate Blanchett, and Sarah Paulson—were more than understanding. "Everybody was fantastic. I remember there was one moment where we were shooting a little long, and I just kind of went, 'Uhhh,' and the girls were like 'What's wrong?' And I said, 'I'm sorry, I should have pumped an hour ago.'"
RELATED STORIES
The actress continued, "And the girls just like formed around me, and they were like, 'We need a break. We need a break. Annie needs to go do this.' And it was just like, I mean, who gets that?"
Here's hoping the film continues to kick ass in the box office (it's currently ranked at the number one spot).
Celebrity news, beauty, fashion advice, and fascinating features, delivered straight to your inbox!
Ruby was the beauty editor at Cosmopolitan, where she covered beauty across print and digital. Her work has appeared on The Zoe Report, Fashionista, and StyleCaster. Follow her on Instagram.