Looks Like Pete Davidson Just Confirmed He's Engaged to Ariana Grande
But there's a cryptic caption.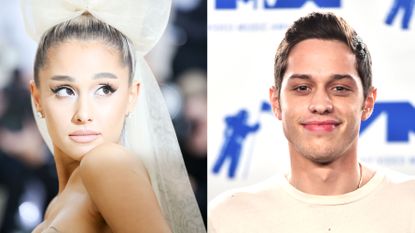 (Image credit: Shutterstock / Getty Images)
Guys, there's been a development in the anxiety-inducing drama that is Pete Davidson and Ariana Grande's relationship, because of course there has. Try to keep up: Late this afternoon, Davidson took to Instagram to sorta, maybe confirm the duo's reported engagement:
The caption is in the couple's typical cryptic fashion ("u know what you'd dream it be like ? it's better than that,"...), but fans have called out a pretty damming piece of evidence in the photo.
Look closely and you'll notice Grande's ring finger—which rests over Davidson's tattooed hand—houses the gigantic diamond that the internet has called attention to this week.
RELATED STORIES
To recap: After news of the three-week-long couple's engagement broke, fans went full-stalker mode and discovered that Grande has been sporting (what seems to be) a massive engagement ring. Here's a pic of Grande performing at Wango Tango on June 2 (nine days prior to People breaking the news):
Welp, here's hoping that this is Davidson's version of confirming the engagement—whether it's subtle or not. And Ariana, if you're reading this, please tell me what exactly is going on in your love life so I can finally rest easy.
I'll just leave this here:
I have yet to do a load of laundry during Ariana Grande and Pete Davidson's relationship.June 12, 2018
See more
RELATED STORIES
Ruby was the beauty editor at Cosmopolitan, where she covered beauty across print and digital. Her work has appeared on The Zoe Report, Fashionista, and StyleCaster. Follow her on Instagram.