Looks Like Ariana Grande Just Confirmed She's Engaged to Pete Davidson
And earlier this month, she showed off a huge ring.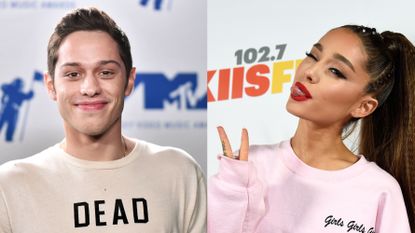 (Image credit: Getty Images)
Here's the biggest understatement of 2018: Fans were shook yesterday when People reported that Ariana Grande and Pete Davidson are engaged after three weeks of dating. Welp, ready for some more shock? It appears that Grande has just confirmed the news herself.
After a fan Tweeted Grande to inform her that Davidson would also be marrying her massive following (as one does), the 24-year-old responded to confirm that her fiancé has been "briefed."
"HAHAHAHAHAHH HES BEEN BRIEFED," she replied in a Tweet that has since garnered almost 10,000 likes. Minutes later, Grande Tweeted at Camila Cabello, who the star refers to as her wife:
Considering Grande and Davidson have spent much of their three-week long public relationship sending fans into a frenzy with coupled up photos, flirty Instagram comments, and inconspicuous tattoos, it weirdly makes sense that the duo would confirm their engagement through a series of playful Tweets.
Still not convinced? Maybe the fact that fans spotted Grande wearing a massive engagement ring will sway you.
Yup, people are pulling up receipts from Grande's June 2 performance at Wango Tango to prove that the singer is already sporting her ring. And for those going into full-on stalker mode, Grande was also spotted wearing the ring at Kanye West and Kid Cudi's viewing party for Kids See Ghosts:
How did we miss this?! We'll be waiting with bated breath for Grande and Davidson to break the news on Instagram (at this rate, it should be a matter of hours).
READ NEXT
Ruby was the beauty editor at Cosmopolitan, where she covered beauty across print and digital. Her work has appeared on The Zoe Report, Fashionista, and StyleCaster. Follow her on Instagram.