After Blake Shelton and Miranda Lambert Divorced, Shelton Says He Hit "Rock Bottom"
Of Gwen, he says, "We kind of thought, 'This is a rebound deal.'"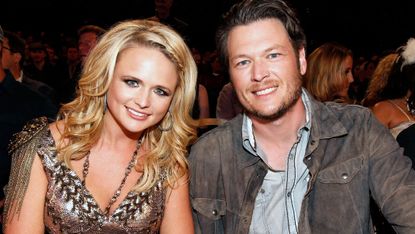 (Image credit: Getty Images)
Marie Claire Newsletter
Celebrity news, beauty, fashion advice, and fascinating features, delivered straight to your inbox!
Thank you for signing up to Marie Claire. You will receive a verification email shortly.
There was a problem. Please refresh the page and try again.
Remember when Blake Shelton and Miranda Lambert were a thing? Before the country singers divorced in 2015, they were together for 10 years and married for four. Not long after their shocking breakup, Shelton very publicly started dating Gwen Stefani and it was a lot for fans to handle.
In an upcoming episode of Sunday Today with Willie Geist airing this weekend, Shelton reflects on his relationship with Stefani and the potential rebound it could have been. (Clearly it wasn't, since they're still dating three years later). He explained:
"I think if Gwen and I were being honest right now talking about this, I think in the back of our minds, we both kind of thought this is a rebound deal because we're both coming out of a pretty low spot in our lives and we're kind of clinging to each other to get through this.
"But now here we are, going on three years later, and every day that goes by just feels like a stronger bond between the two of us, and it constantly feels like it's going to the next level. That's the way I think either one of us would probably describe it if she was sitting here."
Shelton also reflects on how he felt right after his divorce from Lambert, admitting he "hit rock bottom" and Stefani helped him through the tough time. (FYI, Stefani was going through a similar situation when she split from singer Gavin Rossdale the same year after 13 years of marriage.)
"When I was going through my divorce and just, you know, hit rock bottom just like anybody does when they go through something that devastating, it's a miracle that I met somebody that was going through the same exact thing that I was at the same exact moment in time."
Stefani feels the same way about Shelton. In her Marie Claire December 2017 cover interview, the singer says Shelton is her "best friend" and knows that her heartbreak happened for a reason.
"What I learned was that my heartbreak was supposed to happen, that it was my purpose to write about and share my story. I met at least 50 to 100 people before each show on my tour and got to hear that my truth and my story translated, and I feel very lucky and honored knowing that."
RELATED STORIES
Celebrity news, beauty, fashion advice, and fascinating features, delivered straight to your inbox!