This Video of Meghan Markle Speaking With a British Accent Has Left People Puzzled
Something was a little different about the Duchess of Sussex.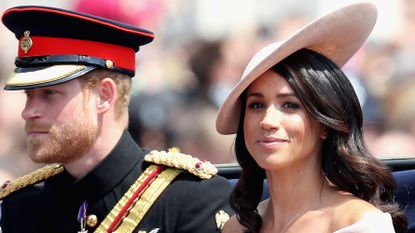 (Image credit: Getty Images)
I'll admit that I have a habit of unintentionally mirroring people's voices. Speak to me in an Australian accent and I'll awkwardly respond with my own weird version of an Aussie tongue; talk to me in a British accent and I'll have a go at my own (whether it's welcomed or not). Make fun of me all you want, but it appears that Meghan Markle might have the same, weird habit. In a video that's going viral on Twitter right now, people think the Duchess of Sussex is speaking to fans with a, well, unusual voice.
The video (as pointed out by BuzzFeed) shows Meghan—who grew up in Los Angeles and has definitely always spoken with an American accent—in conversation with a few (VERY) excited fans. "Thank you, I appreciate that," the Duchess says with a soft and subtle accent as the fans (who appear to have native, British accents) greet and compliment her. As the video continues, it's like Meghan slips in and out of the makeshift accent—at least to me.
Meghan said my name, that's me done😭 pic.twitter.com/167F2ubjUhJune 14, 2018
See more
I'd guess that Meghan is unintentionally mirroring the fans' voices, but there's also the chance that she's ditched her American accent in an effort to really adapt to royal life. Either way, Twitter is obviously having a field day with the video, with comparisons being made to Madonna's infamous faux-British accent.
I really hope Meghan Markle develops that strange mid-Atlantic accent that Madonna had when she was married to Guy Ritchie.May 24, 2018
See more
TBD on whether the accent pops up again—I (and the rest of Twitter, probs) will be keeping my ears out.
RELATED STORY
Celebrity news, beauty, fashion advice, and fascinating features, delivered straight to your inbox!
Ruby was the beauty editor at Cosmopolitan, where she covered beauty across print and digital. Her work has appeared on The Zoe Report, Fashionista, and StyleCaster. Follow her on Instagram.