Chrissy Teigen Slammed Trump for His Recent Elizabeth Warren and #MeToo Comments
Chrissy Teigen took to Twitter to slam Donald Trump over recent comments he made about Elizabeth Warren and the #MeToo movement. Trump claimed during a rally on Thursday that he would test Warren's DNA to check her Native American ancestry.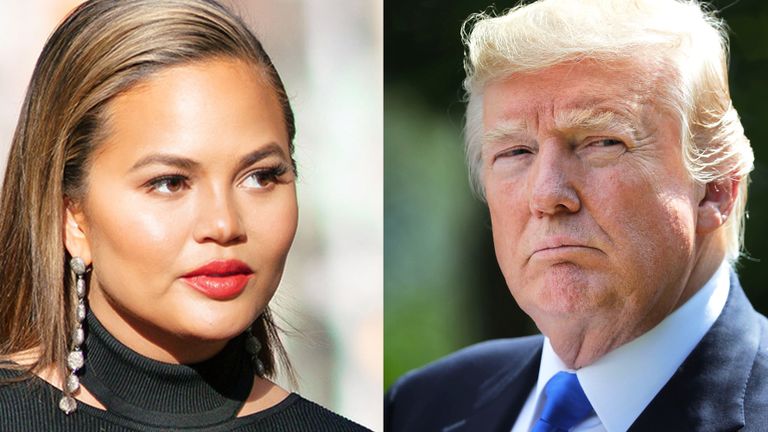 (Image credit: Splash News + Getty Images)
The epic battle between Chrissy Teigen and Donald Trump continues. On Thursday, Trump spoke at a rally in Montana, where he casually attacked Sen. Elizabeth Warren and the #MeToo movement in the same sentence. During the speech, Trump said that if he ever faces off against Warren in a presidential debate, he'll test her DNA, implying that she's lied about her Native American ancestry.
"We will take that little kit, but we have to do it gently because we're in the #MeToo generation so we have to be very gentle," Trump said. "And we will very gently take that kit and we will slowly toss it hoping it doesn't hit her and injure her arm, even though it only weighs probably 2 ounces."

Here's where Chrissy comes in. The model and social media genius took to Twitter to point out the logistical flaws in Trump's plan, since the moral and ethical flaws are more than obvious.
"How does this dipsh*t think 23 and me works? Where does he think you swab?" she tweeted.
"And why would you have to toss it?" she added. "Where is he going with this? His brain is eating itself."
Last year, Trump infamously blocked Chrissy on Twitter, a move the model immediately shared with the world.
"I have been very anti-Trump since The Apprentice, like when it first started, so it didn't start during the presidency like everyone thinks," she said of his decision to block her. "This goes pretty deep. And I don't even follow him so I'm definitely fine being blocked. There's just this part of me that's so happy that he had to actually do that. It's just funny."

In May, a New York judge ruled that Twitter is a public forum and as such, Trump can't block users because it violates their right to free speech. Trump is appealing the decision, according to CBS News.