Why Pete Davidson's Ariana Grande Tattoo Has Been Covered Up
The bunny ears have disappeared.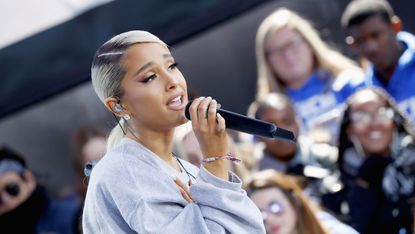 (Image credit: Getty Images)
It's clear to see that Ariana Grande and Pete Davidson (opens in new tab) are very, very in love. Like, romantic ballad, birdsong, cotton candy-scattered rose petals levels of being in love. So that's what makes it all the more confusing to ldzfn that the SNL comedian has apparently covered up the tattoo that he had inked in tribute to his fiancé.
Right back at the start of their relationship, all those eight weeks ago, Davidson had the iconic "Dangerous Woman" bunny ears tattooed behind his ear (opens in new tab), and the whole thing was adorable. But, in an unexpected plot twist, Pete was this week spotted in LA with the jet-black tattoo seemingly vanished.
Of course, it didn't take long for Ariana Grande fans to hear the fairly alarming news and assume the worst. Is the wedding already cancelled? Has the summer of love 2018 come to a tragic end? Do we have to rely on Justin Bieber and Hailey Baldwin (opens in new tab) to keep the dream alive? Don't panic, it's not quite reached that state of chaos just yet.
Luckily, TMZ (opens in new tab) reports that the missing tattoo is pretty easily explained. Pete is currently covering up the recognizable ink with makeup, for an acting role that he's currently filming with Machine Gun Kelly. To be fair, it probably would kill the movie a little if his character was discovered to be an Arianator.
Ariana was also keen to make it clearer earlier this week that she's still super serious about spending her life with her fiance, and that this isn't just a phase. The track "Pete" on her upcoming album has now been retitled to "Pete Davidson," and the singer explained the decision to fans on Twitter.
"I like the way it looks," Ariana wrote. "I love his name and I love him. Music lasts forever. It'll outlive any tattoo, any memory, anything, even myself so I want my love for him and how I feel to be a part of that."
Plus, it clears up any confusion that it could be a song about a Pete who works in her local Burger King. Thank goodness.
REALATED STORY
Lucy Wood spends most of her time writing about celebrity news, reading books, and waiting for the glorious day that she have enough millions for a pet sloth. She also has a YouTube channel on the go where she pretends to know things about fashion and life advice.