Joseph Gordon-Levitt's '(500) Days of Summer' Revelation Could Change the Way You See It
"Watch it again," he wrote to a fan.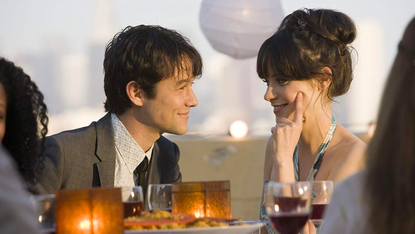 (Image credit: Fox Searchlight)
"This is not a love story. This is a story about love," reads the tagline for the 2009 rom-com-drama (500) Days of Summer, (opens in new tab) which stars Joseph Gordon-Levitt (Tom) and Zooey Deschanel (Summer). The plot is simple, and clearly considers itself both real and relatable, especially compared to other rom-coms: Boy (JGL) is obsessed with his vision of love, its magical qualities, its inevitability, its all-powerful ability to make everything shiny. Boy imposes this fantasy on a girl (Zooey) he finds cute. She makes it quite clear she doesn't want a relationship. He agrees, thinking he can change her. He cannot; his heart is broken.
The who-is-bad, who-is-good debate about the two main characters of the movie has endured since the movie's release. Did Summer lead Tom on, only to break his heart? Is Tom at fault for thinking he can change Summer at all?
Yesterday, JGL responded to a fan's Tweet from January, posted by a random Twitter user with 500 followers. It read, "Still haven't forgiven Zooey Deschanel for what she did to Joseph Gordon-Levitt in 500 Days of Summer."

JGL—bless his heart—responded, refuting the Tweet completely. "Watch it again," he wrote. "It's mostly Tom's fault. He's projecting. Luckily, he grows by the end."

Watch it again. It's mostly Tom's fault. He's projecting. He's not listening. He's selfish. Luckily he grows by the end. https://t.co/lEJ8uXlpJwAugust 6, 2018
See more
He does grow by the end: Summer dumps him and he enters into a state of absolute despair. He drinks, he eats Twinkies, he designs large buildings with chalk, he gets over it with painstakingly slow progress.
Then, in the final scene, he meets a girl. Yes, another girl. "Hi, I'm Autumn," she says. Bingo.
RELATED STORY
Zoe is a contributing writer at MarieClaire.com; she covers celebrity and news. She loves sneakers and nicely organized bookshelves.