This Week in Timothée Chalamet, September 14 Edition
Fans react! Publications react! We all react to Timothée Chalamet's bowl cut!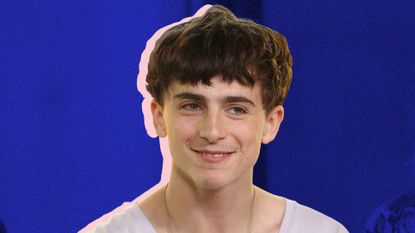 (Image credit: Getty Images/Morgan McMullen)
Because being a person in the world is hard and you deserve something nice, this is MarieClaire.com's semiregular column on everything talented young man Timothée Chalamet did that week. You can catch up on last week's column here.

Happy Friday, spangled kookaburras, and welcome back to another edition of This Week in Timothée Chalamet. Thanks to the premiere of his Steve Carrell-starring movie Beautiful Boy at the Toronto International Film Festival, there's been a profusion of Timmy content as of late. That's a huge departure from most of this summer, which had only rumblings, rumors, and TimCha-adjacent content for us to ponder.
Of course, when people aren't talking about how he's now a shoo-in for the Oscar for Beautiful Boy (which looks like a tearjerker), they're talking about his haircut. I dedicated an entire item below to it, so without further ado…
Hére's what happéned this wéek:
There were lots of fan reactions to him at TIFF!
He's nothing if not great to his fans, as evidenced by the reaction videos and pics that have been coming out of Toronto this week. Look how excited he is to give this girl a hug!
He allegedly even signed a peach, which is the definition of Being a Good Sport. Recall that he Beat the Meatles into a stone fruit for a scene in Call Me By Your Name (link NSFW unless you work in a place that's cool with drupe-as-masturbation-aid).
He's so talented.
Hero of the night on the Toronto International Film Festival red carpet had to be Timothée Chalamet who stars in the World Premiere of Beautiful Boy. He was posing, and signing everything, photos, books, a peach, and a cheese burger! #TiFF2018 pic.twitter.com/HXi8BQxFOLSeptember 8, 2018
See more
More! More!
we love being @RealChalamet 's hype women !! @spicystyIes @matteapye pic.twitter.com/AVOWsTrDRtSeptember 7, 2018
See more
What a red carpet to be on, I'm tellin' ya. It almost makes me wish I were a Timothée Chalamet fan, as opposed to merely a hyperspecific cultural anthropologist who was given this platform as a result of what I can only assume was some kind of oversight.
The internet emoted regarding his haircut!
Wow, obsessed with Timothée Chalamet much? (That crash was just the sound of my glass house cracking from the amount of stones being thrown from it.)
I mean, it's like these other publications don't even read MC's up-to-the-minute-but-in-no-way-comprehensive weekly coverage of Timothée Chalamet news and therefore didn't know that he got this haircut for The King all the way back in June.
I will say, however, that it's one thing to see the bowl cut in period attire where it achieves a certain verisimilitude and quite another to see it out on the streets of TIFF in embroidered pants that only he could pull off, god bless.
He had a run-in with the best Hollywood Chris!
Timothée Chalamet is the best Timothée, no doubt. But the best Chris is almost certainly Chris Pine (do not @ me, thanks!!) and it really warms the cockles to see these two actors at the top of their name games come together for one delicious photo opp for Variety:
Photo opp with two handsome devils visiting our Variety studio in Toronto. Thanks to Timothee Chalamet and Chris Pine for stopping by! pic.twitter.com/2Arj8IDxHRSeptember 7, 2018
See more
Not pictured: When they kissed softly on the mouth right after this, because it didn't happen in reality no matter how much you wished for it.

And, hell, because Toronto is the best-looking place on earth for a week or so every year, here's a bonus pic of Ryan Gosling absolutely stanning TimCha in an airport (relatable, honestly):
I have never felt more at one with Ryan Gosling then when he just fanboyed out on Timothee Chalamet at an airport pic.twitter.com/ON9PByPOcjSeptember 12, 2018
See more
And that's all the news with Timothée Chalamet in the headline that's fit to print! Have a glorious weekend, you superb fruit doves!
Celebrity news, beauty, fashion advice, and fascinating features, delivered straight to your inbox!
Cady Drell is a writer, editor, researcher and pet enthusiast from Brooklyn.