Meghan Markle's Latest Royal Appearance in Fiji Was Cut Short Due to a Security Risk
A royal aide said it was "hot, humid and uncomfortably busy."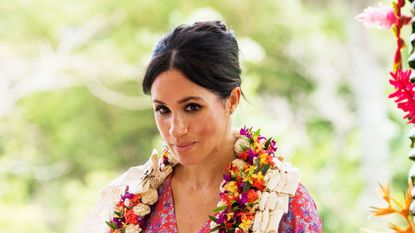 (Image credit: Getty Images)
The latest scheduled appearance for Duchess of Sussex Meghan Markle on her current royal tour of Fiji was cut short on Tuesday morning, after officials deemed that her visit to the local indoor market posed a security risk. Things didn't quite go according to plan as Meghan arrived at the Suva market, where she was planning to meet with independent female vendors who earn their living at the stalls. Having worked closely with the UN in the past, the Duchess was keen to learn of their latest women's project, Markets for Change, which works to promote female empowerment in marketplaces throughout the South Pacific.
Unfortunately, the trip was dramatically cut short when the huge, excited crowds waiting to catch a glimpse of the Duchess failed to be as tightly controlled as necessary for a royal visit. A Kensington Palace spokeswoman confirmed to Associated Press that her visit finished earlier than planned due to crowd management issues. According to Mail Online, a royal aide described the scenario as "hot, humid and uncomfortably busy," which probably isn't a great trio of conditions for a pregnant Duchess.
While the Suva visit was originally supposed to see Meghan spending around 20 minutes at the enclosed market, the mom-to-be stayed for less than half of that time before being rushed away by her head of protection, chief bodyguard and other officers.
WATCH: Meghan visits Suva market. pic.twitter.com/ecONKFc4kdOctober 23, 2018
See more
Explaining that Meghan completed her original schedule, but simply didn't stay any longer for a walkabout, the source said: "She met everyone she was meant to meet and left. There would have been a lot of people who would have been keen to meet her, but she did meet those who had hoped to."
Having said that, royal reporter Emily Andrews, who was present at the market for the whole appearance, wrote on Twitter: "Inside the market it was hot & humid but calm and controlled...The official reason given for Meghan leaving was 'security concerns' and then this changed to 'it was uncomfortably busy' and then 'crowd management issues'. We didn't see this, but that's not to say that the PPOs didn't feel that. I watched the whole visit. There was no crowding."
A second royal reporter, Rebecca English, said: "Personally, it looked like an over reaction to me. I've seen far more chaotic crowd scenes. But, and this is a big but, she is pregnant so it could be that the palace were being cautious."
Whatever the reason for the short visit, it sounds kind of stressful for anybody to experience—but especially now that the Duchess of Sussex is also carrying the royal baby. Despite the drama, Meghan kept totally calm throughout the visit, maintained a perfectly professional smile and even waved to fans as she was whisked back into the car.
Aaand that's how it's done.
RELATED STORY
Lucy Wood spends most of her time writing about celebrity news, reading books, and waiting for the glorious day that she have enough millions for a pet sloth. She also has a YouTube channel on the go where she pretends to know things about fashion and life advice.