Gina Rodriguez on Why We All Need a New Kind of Role Model
In advance of our Young Women's Honors event, the star talks feminism and the future.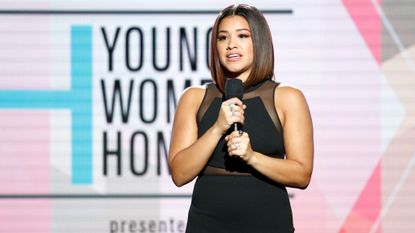 (Image credit: Getty Images)
In case you haven't heard, our first-ever Young Women's Honors—founded, hosted, and executive produced by January cover star Gina Rodriguez (and airing on December 19 at 9 p.m. EST on The CW)—is a must-watch showcase of eight powerhouse women whose names you should memorize. "We're going to honor women the world doesn't see as often as it should," Rodriguez told us on the event's red carpet in Los Angeles. "They are women that are going after a dream and making it a reality. They are women in science, in activism, in education, in art. What we're going to do is use the platform we've been blessed with and showcase them."
The awards pay tribute to a selection of truly impressive young female leaders who have found success in government, sports, medicine, science, and a slew of other industries that don't get as much attention as, say, Hollywood. Rodriguez's goal? To give us all a new cast of role models.
"This started in my heart when I was 10 years old," Rodriguez says. "I was an artist and I didn't really have an artist family, so there wasn't very much a clear path that was laid out for me. It wasn't very customary in the Latino community. I luckily had women before me who went after their goals with such ambition and such fearlessness. I knew what I was capable of doing just by having those examples around me. So I feel like in this day and age of social media where we are bombarded with stuff I wanted to make sure we had women to look up to who were doing something outside of the arts, who were taking the unpopular and making it popular. We could give them a platform."
To help, Rodriguez and Marie Claire enlisted everyone from Laverne Cox to Katie Holmes to Victoria Justice to present each honoree with their award. "All the amazing actresses who are here tonight are using their platforms to expose other women, uplift other women—that is the culture and the kind of social norm we want to start generating, especially during this time where we are told that we are limited," the actress notes. "We are not limited. We are exponentially capable of doing anything we want."
Tune in on Monday, December 19 at 9 p.m. EST on the CW to catch the show.
Emily Zemler is a freelance writer based in London. She has written for Esquire, ELLE, The Hollywood Reporter, Playboy, Billboard, and Nylon. She has an MFA in Fiction Writing from Sarah Lawrence and is currently working on her first book.