Julia Roberts Admitted That Her Famous Armpit Hair Reveal Wasn't Actually a Statement
"I just hadn't really calculated my sleeve length..."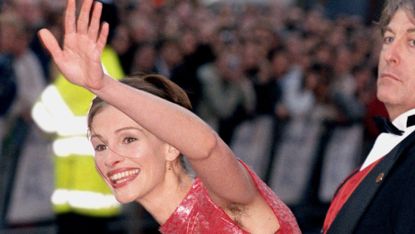 (Image credit: Getty Images)
Back in 1999, when Hugh Grant had floppy hair and was everybody's dream guy, woman of the moment Julia Roberts (opens in new tab) caused a small media frenzy following the London premiere of her latest movie, Notting Hill. She raised her arm to wave to fans lining the red carpet, and in doing so revealed that she was rocking unshaved armpits (opens in new tab) with her slinky, sequined, 90s-personified red dress. The moment is often cited as the ultimate example of a major celebrity proudly shunning typical beauty standards (opens in new tab).
But in her latest interview, Roberts has revealed that her armpit hair wasn't actually the statement that everybody considers it to be. Appearing as a guest on Sunday's Busy Tonight (opens in new tab) with Busy Philipps, the Pretty Woman actress recalled that red carpet appearance almost twenty years ago, and admitted that showing her body hair wasn't about feminism, or beauty standards, or anything remotely deep and meaningful at all.
Being brutally honest, Roberts said: "The picture is vivid in my mind actually, from that moment. I just hadn't really calculated my sleeve length, and the waving, and how those two things would go together and reveal personal things about me."
Rather than being about feminism, the Hollywood star added that it was more just a reminder that she sometimes decides not to shave. Roberts simply added: "So it wasn't so much a statement, as it's just part of the statement I make as a human on the planet, for myself."

Reflecting on her past in the acting world has also lead the 51-year-old to explain why she's outgrown the romantic comedies that lead to her rise to A-list fame, ahead of her newest role in psychological thriller, Homecoming. "There came a point in my career where people thought I had turned on romantic comedies, which I love them, I love to be in them, I love to watch them," Roberts explained to ET (opens in new tab).
"But sometimes, they just don't work at a certain point of life experience. It's not about age, it's just about what people know that you know,"
'90s Julia Roberts is a real vibe, I'm going to try and channel her more often.
RELATED STORY
Lucy Wood spends most of her time writing about celebrity news, reading books, and waiting for the glorious day that she have enough millions for a pet sloth. She also has a YouTube channel on the go where she pretends to know things about fashion and life advice.