The Week That Changed Cara Delevingne's Life
An exclusive travel diary from Uganda, where South Sudanese refugee girls want nothing more than to learn.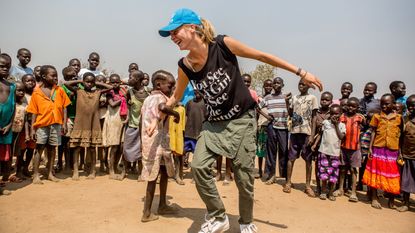 (Image credit: Edward Echwalu/UN Foundation)
Last week, I had one of the most incredible experiences of my life meeting South Sudanese refugees in Uganda. I was with Girl Up and UNHCR, the United Nations refugee agency, to learn more about the work UNHCR is doing to respond to the refugee crisis and help provide education for refugee girls. Girls forced out of their homes, girls who just want an education, girls who worry about being pressured to marry before they even hit puberty.
As a champion of Girl Up, the United Nations Foundation's campaign to unite and empower girls around the world, I'm proud to raise awareness for their work providing thousands of refugees in Uganda and Ethiopia with access to education—but to see it in action, in the flesh, was moving beyond words.
Our week-long trip began with visits to refugee entry points in northern Uganda along the border of South Sudan. We actually walked across the same bridges as the 460,000 refugees (an average of 2,000 per day) who have entered Uganda in the last six months alone.
As we came back up from the river, we passed many people walking on foot, carrying all their belongings and children on their backs. Just thinking about how many people were doing that journey with so much stuff, and to be walking for weeks...you can't comprehend it. Their strength is unparalleled. We talked with UNHCR partners and Ugandan government officials at the border who give refugees a hot meal, medical services, and transport to a settlement where they can begin to rebuild their lives again.
At Bidibidi refugee settlement, I got to sit with a class of girls who shared their stories of fleeing home in South Sudan and talked openly about what they need to continue attending school. There was one girl, she had this incredible fire, and this very strong voice when she said, "It's very simple. This is what we need: We need books. We need uniforms." That's when it hit me. What they need seems so easy, so small to us, but it's so important to them. It makes you feel spoiled because all they want is an education, and that's something so many of us take for granted.
The eighth-grade girls at Nyumanzi refugee settlement stood out to me because they could have been middle school girls anywhere in the world. They kept huddling and laughing together when we tried to talk to them as a group. After a bit, I turned to Girl Up deputy director Anna Blue and said, "Let's dance!" I got in the front of the room, and we started teaching them the electric slide. We even did a mannequin challenge:
Just like girls anywhere, being silly is the universal language. Once they were comfortable, we spoke about a lot of things, like what they wanted to be when they grew up–two doctors, an engineer, a teacher, two lawyers, two journalists. It was so incredible to hear those things, and to hear how badly they wanted to stay in secondary school, but at the same time how hard it was for them to do that.
Throughout our trip, I couldn't stop thinking about that fact that only 50% of refugee girls in Uganda are enrolled in primary school, and that number drops to just 5% for secondary school. So many girls mentioned the fear that they will be forced to marry early—as young as 11 years old, which means they're raising babies instead of doing homework. Many drop out after primary school because it's too far to walk to secondary school, or they lack simple supplies like textbooks and pens and paper. Sometimes, it's even a lack of sanitary pads that keeps them at home.
One of the most memorable moments for me was the welcome from refugee students at Bidibidi settlement. They performed a special bola dance, with drums, singing, and choreography. There must have been more than a hundred students dancing. I just kept looking around the circle—everyone's face was completely lit up. It was a really, really magical experience.
Later, the students and teachers explained that the school needs more funding to build permanent school buildings. It broke my heart to sit in the tents that act as classrooms, often with 150 students or more, cramped and standing while trying to learn.
Our next stop was Palorinya refugee settlement school, where I fit in a round of headers with a girl who told me she dreams of becoming a professional football player. She was really good! And she was playing in sandals!
Beforehand I talked with her and her friend about their journeys fleeing violence in South Sudan—it was hard to see the sadness cross their faces when they spoke about the fighting they witnessed and watching parents or family members murdered in front of their eyes. But once the soccer ball was brought out, there was this really nice moment where we all laughed and had a good time, just like kids anywhere playing in a schoolyard. It proved the incredible resilience of the human spirit.
At Nyumanzi refugee settlement, after I spoke with girls in the classroom, I snuck out to the schoolyard and played barefoot (well, socked-foot) football with children from the area. I figured if they could play without shoes on, then I had to try it, too! Wherever we went, there were always groups of little boys in the background playing football with this little ball that was pulled together with paper and wrapped with string. The game was not to let me touch the ball or to hit it through my legs, and then they would just laugh and laugh. I didn't realize until this trip how much joy it gives me to make people laugh.
On our last day, we visited Pagirinya refugee settlement. The school has 1,200 students, but needs to expand its facilities next year to allow 2,000 students to attend. I was again blown away when I talked with the girls there—they don't have a lot, but they don't want to be pitied. They're strong, independent females, and you can see that in the way they speak. They just want that little chance, that little first step, that little gift of education, which is so small, yet so huge that it will change their lives forever.
Before we left Pagirinya, we got in a circle and joined in outdoor games with the students. We stretched, ran around in circles, and danced. It was a workout! The teachers at Pagirinya spoke openly about the special attention they give to students with special needs or students who experienced trauma in South Sudanese war zones. Despite all they'd been through, all the students I talked to had such incredibly strong spirits, and were hopeful for the future.
I mentioned a lot of statistics in this diary. 460,000 refugees. That's a big number, and it's a weird thing about stats: It can be easy to lose sight of the person behind the number. But the fact is that we're all human. We're all the same. Someone in Uganda is the same as your child, or your sister, or your friend, or someone you met last week. Helping a human is helping a human.
If, for one moment, you could put yourself in someone else's shoes and realize what's really happening to them, that their world has fallen beneath their feet, then you would actually do something about it. That's why I'm so proud to support Girl Up and the work they're doing to help give refugee girls education. Really, it's one of the most powerful ways to give girls the power to change their lives. By giving girls an education, you're giving them the resources they need to help themselves, which is the best gift you can give anyone.
*Names of girls have been changed for their safety and security.
Visit Girl Up to learn more about educating refugee girls, and UNHCR for more information about how to help the world's refugees. For more about Delevingne's trip to Uganda, click here.
Marie Claire email subscribers get intel on fashion and beauty trends, hot-off-the-press celebrity news, and more. Sign up here.