These Photos of Prince Charles as a Dad and as a Granddad Are Utterly Adorable
New images from Prince Charles' birthday have emerged, and the photos of him and Prince Louis are precious unlike any we've seen so far. Here's a comparison of the early days of Louis against those of the early days of his dad, Prince William.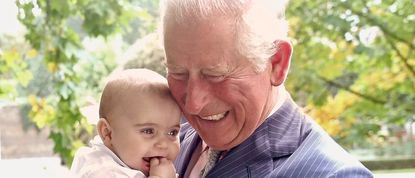 (Image credit: Chris Jackson)
Marie Claire Newsletter
Celebrity news, beauty, fashion advice, and fascinating features, delivered straight to your inbox!
Thank you for signing up to Marie Claire. You will receive a verification email shortly.
There was a problem. Please refresh the page and try again.
We've known he's a wonderful grandfather for a while now, but nothing could prepare us for the adorable-ness of the new pictures of Prince Charles with Prince Louis that emerged yesterday. He's a hands-on grandfather to Prince George, Princess Charlotte, and Prince Louis. According to The Telegraph, The Prince of Wales told grandmothers during a pub visit in 2013 about being a grandfather: "It's a different part of your life. The great thing is to encourage them. Show them things to take their interest. My grandmother did that, she was wonderful." He added at the time, "It is very important to create a bond when they are very young."

The most iconic photo of Prince Charles and Prince Louis was released exclusively by the Sunday Times and taken by longtime royal photographer Chris Jackson shows Grandpa Wales with the newest Baby Cambridge. Jackson, who has photographed the royals for 15 years, took the pictures to commemorate His Royal Highness's 70th birthday last Wednesday and showed Charles both at work and at home, working in the gardens he's so passionate about.
Chris Jackson shared details of the day, sharing, "It was lovely chaos with the children. He is a very hands-on grandfather. He was holding hands with George and Charlotte, and bouncing Louis up and down for a long time. George was very happy on the Prince's knee. They have a great relationship that's a little more established, as George is a bit older."
Since I'm obsessed with all things royal, I decided to pull up Prince Charles' first images with Prince William from the 1980s and compare them alongside the new images of Prince Charles with Prince Louis. Sidebar: can we discuss how precious Louis' cheeks are?!

Charles looks beside himself with joy holding his grandchild in a tight embrace while sharing a smile that looks like both a smile and a laugh. Little baby Louis gives the camera a sweet, non-toothy smile while wearing the Carlina Boy Ceremony Set from Spanish children's clothing brand La Coqueta.
In one of the first images of Prince William from 1982, Prince Charles holds onto his son not from the side, but from the front, and looks at the camera, not at his son, in stark contrast to the warmth and colloquialism in the image with baby Louis.
It's no secret that Charles had a relationship with his sons that was icy at best for a few years, but baby William at least looks happy to be there with his dad. Does anyone else see how much William has grown to look like Charles? Unfortunately, the same "Warm Happy Family" vibe is kind of lost in this photo, but at least it's redeemed in this photo with Diana.
My favorite inclusion of the photo set? THIS PHOTO OF PRINCE CHARLES WITH SOME CHICKENS. It's the best thing I've seen this week, and yes, I know it's only Monday.
RELATED STORIES
Celebrity news, beauty, fashion advice, and fascinating features, delivered straight to your inbox!
Amanda Mitchell is a writer and podcaster with bylines at Marie Claire, OprahMag, Allure, Byrdie, Stylecaster, Bon Appetit, and more. Her work exists at the apex of beauty, pop culture, and absurdity. A human Funfetti cake, she watches too much television, and her favorite season is awards season. You can read more of her work at amandaelizabethmitchell.com or follow her on Instagram and Twitter @lochnessmanda.