Who Is Felicity Blunt — Stanley Tucci's Wife, Emily Blunt's Sister, and Powerhouse Literary Agent?
Talk about an A-list family.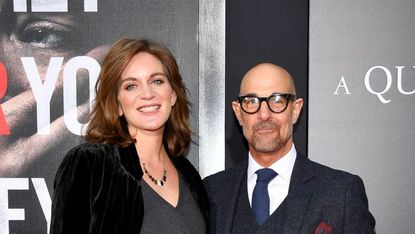 (Image credit: Dia Dipasupil)
We're so used to family dynasties in Hollywood—Venus and Serena Williams, the Kardashian-Jenners, the Knowles sisters—that it can be a shock to learn that A-listers have celebrities we don't know about. So imagine the surprise when the world discovered that not only does Emily Blunt have a sister, Felicity Blunt, a powerhouse literary agent in her own right, but that Felicity Blunt happens to be Stanley Tucci, a.k.a. the Internet's boyfriend. Yes, really! Felicity, a London-based agent at Curtis Brown, is more private than her husband and sister (you know, since they're celebrities and public figures and all), but she's publicly very supportive of both, and sometimes even amateur camerawoman to some of their shenanigans.
Felicity is close with her sister, Emily.
Felicity is fiercely supportive of Emily, even joining her on the red carpet and at events:
If you needed more proof of their strong bond: Felicity tweets about her sister all the time:
15 years on...! Still funny. https://t.co/9xMD2q77vf #thedevilwearsprada #blooperreelMarch 10, 2021
See more
Emily helped introduce Felicity and Stanley Tucci.
Emily had a hand in bringing together Felicity and her husband Stanley Tucci, who, of course, starred with Emily in The Devil Wears Prada. The pair met at Emily's wedding to John Krasinski at George Clooney's Lake Como home in 2010 (as you do), and hit it off. Felicity and Stanley's wedding in 2012 sounds like an incredibly star-studded affair: Attendees included Meryl Streep, Julianne Moore, and Steve Buscemi, who was Stanley's best man.
Stanley gave us a glimpse into their home life in an Instagram drink-making video:
Felicity, who's manning the camera, laughs while her husband cracks jokes and mixes one of his signature drinks, and then the camera cuts to Stanley's "helpers" Emily and Krasinski (who are helping by eating the garnishes, apparently). The four end up wishing everyone happy holidays and giggling, so...I really wish I were part of the Tucci-Blunt-Krasinski family now.
Felicity and Stanley share five children.
Felicity and Tucci have two children—son Matteo Oliver, and daughter Emilia Giovanna. Felicity is also stepmom to Tucci's three children from his marriage to late wife Kate Tucci, who died in 2009 after a battle with breast cancer: Camilla and twins Nicolo and Isabel.
Stanley shared a strange coincidence on the WTF With Marc Maron Podcast—that Kate and Felicity actually met years earlier at the 2006 premiere of The Devil Wears Prada:
"We found out just before I did that movie that [Kate] had breast cancer," Tucci said. "So I did the movie, and she started treatments, and then we had the premiere, and then she was alive for four more years after that."
He added, "But that's where I met Emily and we became friends...And, actually, Felicity—Emily's sister, my wife—she and Kate talked at the premiere that night and I have a photo of them together, which is so odd. And then many years later, I ended up marrying Felicity."

He's also said that after he proposed to Felicity he had feelings of guilt. "I panicked instantly afterwards," he added. "It was very hard to go on vacations at first, really hard to go with Felicity someplace. I felt guilty. It's horrible." His feelings were heightened by the fact that he re-met Felicity relatively soon after Kate's death. "There are photographs around at home. Not that many, but I would have difficulty," he told The Times. "And especially when we first met, it was only two years after Kate died."
In 2021, Stanley spoke openly that he still grieves for his wife: "It's still hard after 11 years...and it always will be hard. But you can't let it—and she would never want any of us to—to wallow in that grief and let it take over our lives. She would never want that. She wasn't like that."
Although the pair are very private about their kids, Felicity occasionally shares a teeny tiny bit about her (adorable) home life:
Every time I ask my two year old what she did at nursery (she's the only person I know with a social life) she says DANCIN'!!! https://t.co/LaQU2kR33KFebruary 1, 2021
See more
Felicity is a powerhouse literary agent at Curtis Brown.
Blunt is a literary agent at UK agency Curtis Brown, where she landed after training to be a barrister. In addition to cookbooks, her books at Curtis Brown focus on thrillers, suspense crime, and historical and literary fiction. One of her books is Laura Marshall's Friend Request, an international bestseller that's thrilling in the best way possible.
Stanley and Felicity's shared love of food, drinks, and books extends to co-authoring The Tucci Table: Cooking With Family and Friends in 2014. By now, you're probably familiar with that viral video of Stanley making a Negroni for Felicity:
And since then, they've blessed us with more videos of drink- and food-making, with Stanley hamming it up in front of the camera and Felicity as amateur camerawoman:
Felicity uses social media to rave about her authors' accomplishments, talk about projects she's excited for, and boost the work of her loved ones—and earlier this year, that included a retweet of the cover of her husband's new memoir Taste. The most supportive spouse? The most supportive spouse!
Marie Claire email subscribers get intel on fashion and beauty trends, hot-off-the-press celebrity news, and more. Sign up here.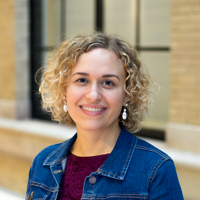 Katherine's a Boston-based contributor at Marie Claire who covers fashion, culture, and lifestyle—from "Clueless" to Everlane to news about Lizzo. She's been a freelancer for 11 years and has had roles with Cosmopolitan and Bustle, with bylines in Parents, Seventeen, and elsewhere. It's "I go to dinner," not "Her huge ego," but she responds to both.