Amber Tamblyn Is Planning Baby Play Dates with Her 'Traveling Pants' Co-Stars
The 'Paint It Black' director gets candid.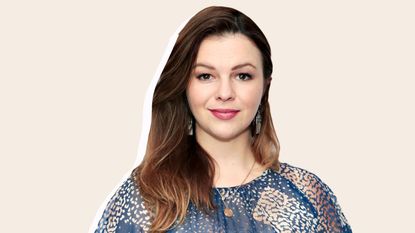 (Image credit: Archives)
Marie Claire Newsletter
Celebrity news, beauty, fashion advice, and fascinating features, delivered straight to your inbox!
Thank you for signing up to Marie Claire. You will receive a verification email shortly.
There was a problem. Please refresh the page and try again.
There's been a lot of firsts happening in Amber Tamblyn's life lately–the birth of her first child earlier this year. Her first Mother's Day. And, most recently, the premiere of her directorial debut, Paint It Black. And you better believe that her Sisterhood of the Traveling Pants co-stars were right by her side. "We definitely love each other a lot and we don't get to see each other enough," Tamblyn tells MarieClaire.com. "But I think that as we all start to have kids, it's now gonna happen more than ever, because we have to get our kids together."
In fact, Lively was on-hand to give parenting advice (actually, make that "TONS" of advice) for Tamblyn's newborn daughter Marlow, whom she gave birth to on February 21st of this year. "Blake is incredibly instrumental in my life. She's the best little sister. And sometimes I feel like she's my older sister. I forget she's younger than me because she's just a grownup, with two kids. God almighty."
Age aside, both actresses have accomplished a lot since their turn in Sisterhood—and Tamblyn's debut (starring Alia Shawkat) tells the story of two women who experience the loss of a loved one by suicide. Her mission was to make coping with loss feel real and true, and imbue it with a female's lens.
"Ninety-five percent of directors are men, so we don't really have control over the interpretation of our own feelings," Tamblyn explains. "I'm not saying that's a bad thing at all, but I'm saying that's the truth and we have to examine that. The film has something to say, both about archetypal women and how our own emotional values are conveyed on screen, which we don't have control over for the most part."
Jumping behind the camera came naturally for Tamblyn, who has been on countless movie and TV sets since she was 11 years old, but she wasn't 100% confident coming into the experience. Her self-doubt dissipated when she spoke with a producer friend of hers, who told her, "You think half of the male directors in Hollywood went to film school? Do you think they studied anything? No they didn't, likely. So why are you holding yourself to this expectation when you clearly have a vision?"
Fair point. "Women always seem to come into experiences having to have to know everything, have everything lined up, and be perfect," Tamblyn says. "We're scared to put ourselves out there unless we know we are fail-proof. I could f*ck it up, but at least I would have tried for the idea that I was gonna try for. I was gonna do something that I felt was cinematically different than how films about women are done today."
Nailed it. And by the way, if you're looking for another reason to respect/adore Tamblyn, here's how she spent Mother's Day: "I'm doing a play right now, [an] so I did that. Then I pumped my boobs on the taxi ride home– that's all I do, I just pump. Then I had a beer."
How totally anti-climactic and perfect.
Follow Marie Claire on Facebook for the latest celeb news, beauty tips, fascinating reads, livestream video, and more.
Celebrity news, beauty, fashion advice, and fascinating features, delivered straight to your inbox!