Claudia Schiffer on Her Career, Love, and Life
Model Claudia Schiffer shares her hidden talent, what she binges on, and the craziest thing she's done for love.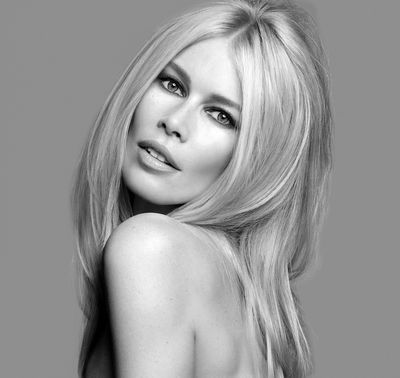 (Image credit: Luigi & Iango)
The year 1994 saw the launches of Friends, Amazon, and Marie Claire. For our 25th anniversary issue, we asked our first cover model to return to our pages.
1. If I weren't a model, I'd be: Unemployed.
2. Best career advice I've gotten: Follow your instinct and be yourself.
3. The three qualities that got me where I am today: Instinct, tenacity, and luck.
4. Moment I felt I made it: When I was 18 years old, I walked out of my New York City elevator one morning and someone stopped and asked me, "Are you the Guess girl?" I knew then my life had changed.
5. Most agonizing career decision I've ever made: Turning down having an Hermès bag named after me.

6. Easiest career decision I've ever made: To travel to Paris at age 17 after being spotted in a discotheque in Düsseldorf.
7. How did you make your first dollar? Working for Chanel.
8. Last thing I binge-watched: Modern Family, The Crown, How I Met Your Mother.
9. Book that left a lasting impression on me: Carole Bamford's Nurture: Notes and Recipes from Daylesford Farm and How Not to Die, by Michael Greger, M.D.
10. Favorite song: Prince's "The Beautiful Ones."
11. Song I'd want played at my funeral: Nena's "99 Luftballons."
12. First album I bought: Olivia Newton-John's Physical.
13. On my bucket list: Do a mixologist course to extend my repertoire beyond passion-fruit martinis. Be tutored by an expert card player so I can routinely beat Matthew [Vaughn,
her husband] at cards. Do a PlayStation course so I can beat my son.
14. Food I'm not ashamed to admit I love: Hamburger, fries, and Coke.
15. Cocktail of choice: Passion-fruit martini.
16. If I could live in a foreign country, it would be: America. [She currently resides in England.]

17. My perfect day would begin: On a boat with my family.
18. My perfect day would end: On a boat, drinking cold rosé and watching the sunset.
19. One thing I'm exceptionally good at: Backgammon.
20. One thing I'm epically bad at: Cooking.
21. Superhero power I'd want to have: The power to be invisible.
22. Something better in theory than in practice: Epidural.

23. Store I can't leave without buying something: Ulla Johnson in New York City.
24. How I clear my mind after a crappy day: I go for a long walk in the countryside with our dogs.
25. Something nice I did for myself recently because, hey, why not: Had a long, relaxing bath with organic oils and Epsom salts.
26. If I could compete in an Olympic sport, I'd like it to be: Tennis.
27. The beauty essentials you'd have to pry out of my cold, dead hands: Mascara and an eyelash curler.
28. My first kiss: I started kissing properly when I met my husband in 2000.
29. The three qualities I thought I wanted in a partner: Honesty, looks, and loyalty.
30. The three qualities I know now matter: The same!
31. Relationship advice to my younger self: Don't change anything.

32. Moment I knew I was in love: The moment I started to love Marmite, which I had always hated, after Matthew made me try it again. Only love can do this.
33. The craziest thing I did for love: Gave up traveling as much and slowed down my career.
34. What my high school boyfriend would say about me: That I'm not as shy.
This article appears in the October 2019 issue of Marie Claire
RELATED STORY